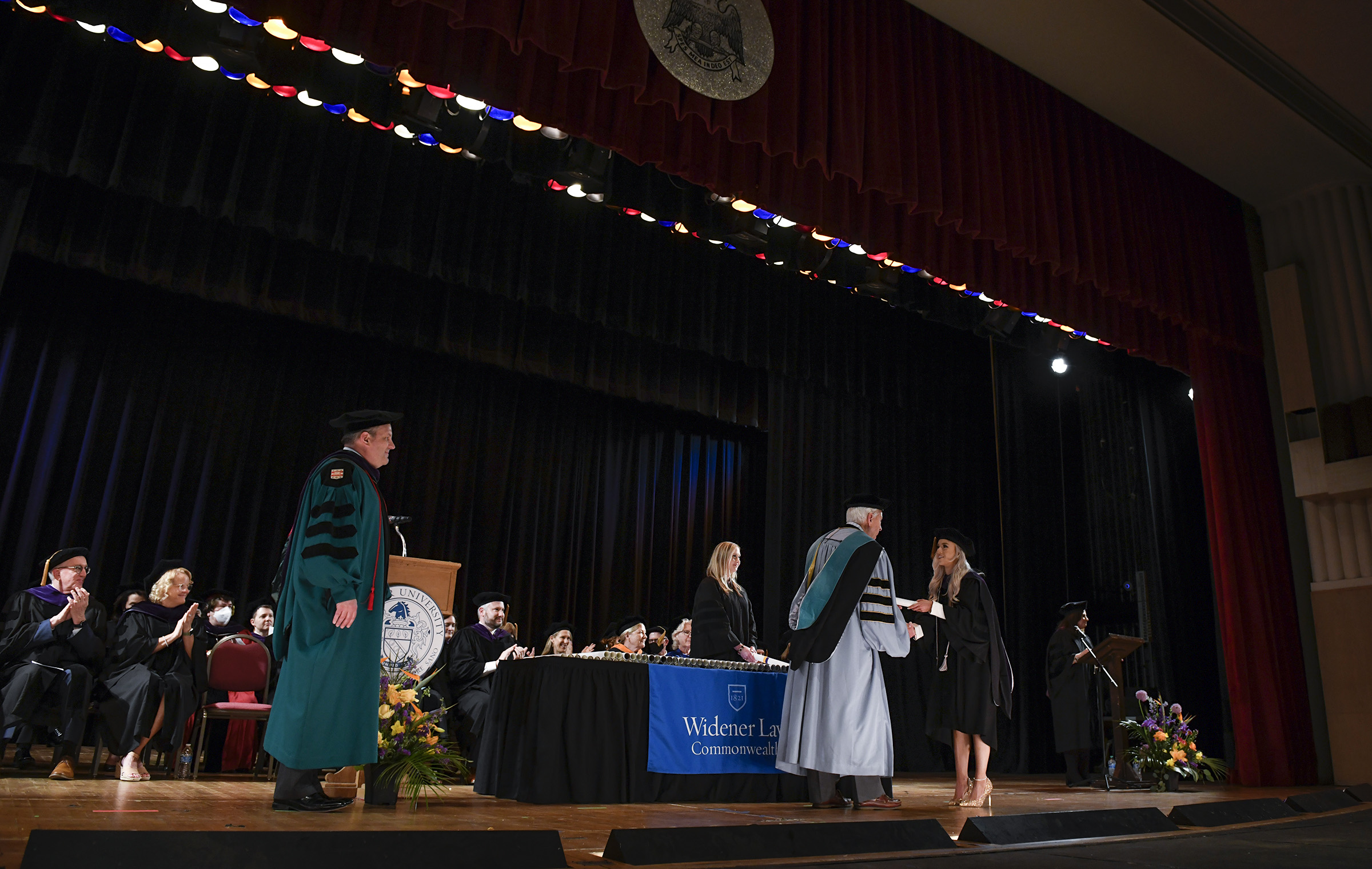 MAY 16, 2022 MONDAY
Widener Law Commonwealth holds 31st commencement ceremony
98 candidates for graduation took part in Widener Law Commonwealth's commencement on Sunday at the Scottish Rite Theatre and Ballroom in Harrisburg, marking the first such ceremony to be held in an indoor capacity since 2019.

Widener Law Commonwealth Dean Michael Hussey addressed graduates and attendees at the commencement ceremony and highlighted the importance of their future roles in the legal community.
"Being an attorney is not about the things that you do, like arguing motions, drafting pleadings and negotiation contracts. Those are important to the practice of law, but they are not who you are as an attorney. Your family, your friends, and your clients and society know that being an attorney is about who you are. They look beyond the things that you do, they look deeper, and will look to you for your leadership, your guidance, and your counsel."

"Just looking at our world during your few years in law school, we see the significant need for lawyers in our society. The very fabric of our democracy was tested and is being tested in ways not seen in decades. Your membership in the Bar will carry with it the responsibility to be committed to the rule of law, committed to justice and committed to the common welfare, the commonwealth of your fellow citizens and neighbors," Hussey added.

Valedictorian Stephanie Hartman spoke at the commencement ceremony and discussed how she and her classmates met and surpassed the challenges laid before them while in law school.
"Isolated from our fellow students and professors, we pushed through one whole year of remote learning, and no matter what comes next for us, this is an incredible accomplishment and I wanted to take a moment to acknowledge it," Harman said. As attorneys, "we have the privilege of helping people and they trust us to seek their best interest. This is a privilege to practice law and handle peoples' most precious matters. We get to help them in a way only someone trained in the law can help," she added.

Stephanie's father, William Hartman III Esq., a 2003 graduate of Widener Law Commonwealth, was also in attendance at the ceremony and had the honor of presenting her with her diploma.
The commencement ceremony also featured remarks from Paul Edgar, '11, who serves as president of the law school's Alumni Board and served as an adjunct professor from 2017 to 2021.

"As a graduate of our outstanding law school, today you join an alumni body of over 3,700 attorneys located in almost every state of our union and in a number of countries around the world. Each of us uses our Widener education to improve the world in which we all live. While it is tempting to think of today as the end of your time at Widener, I'm here to tell you it is not. Today is merely the beginning of your new chapter. As you join our esteemed profession, you will find your fellow Widener Law Commonwealth alumni to be both supportive and engaging. Take what you have learned during your time at Widener and use it to the best of your ability," Edgar said.

As part of the festivities leading up to the commencement event, a special student award ceremony was held on the Widener Law Commonwealth campus on Friday, May 13, where 25 students were honored for their accomplishments and dedication to the law school. In addition, Professor Michael Dimino was awarded the 2022 Faculty Excellence Award at the event. Prior to Sunday's commencement ceremony, Professor Jill Family was awarded the Douglas E. Ray Excellence in Faculty Scholarship Award.
Click here to view photos from commencement, the student award ceremony and the graduation farewell event.
Widener University Commonwealth Law School is the Pennsylvania capital's only law school, with three specialized centers of legal scholarship through its Law & Government Institute, Environmental Law and Sustainability Center, and Business Advising Program. Widener Law Commonwealth offers an exceptional learning experience that is personal, practical, and professional. Please visit commonwealth.widener.edu for more information.