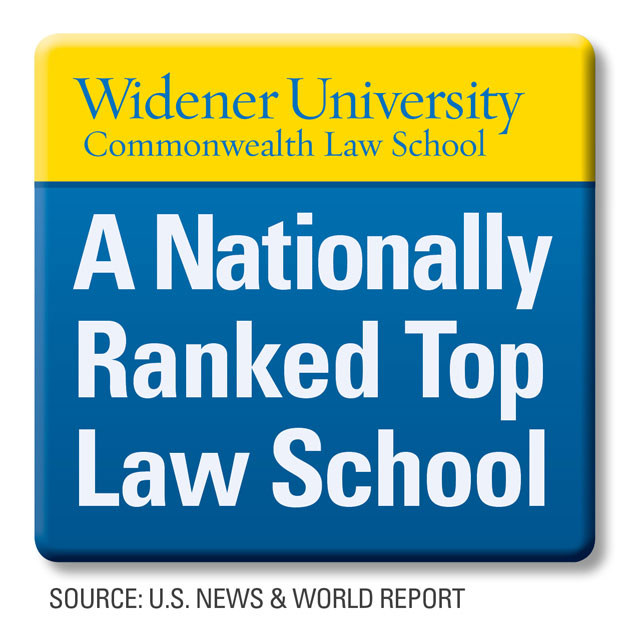 MAR 20, 2018 TUESDAY
Widener Law Commonwealth listed as a top law school by U.S. News & World Report
Widener University Commonwealth Law School has been named a top law school in the "Best Graduate Schools 2019" guidebook published today by U.S. News & World Report.
The school moved up five places from last year and is now ranked 143rd on the list compiled by U.S. News and World Report in the Law School category. In 2017, the school was ranked 148th on the list. The methodology used to determine placement on the list included information from statistical and reputational surveys sent to administrators and professionals. Peer assessment data was also used when tabulating the rankings of the school to be included on the list.
"It's an honor to be included as a ranked law school by U.S. News & World Report. The ranking emphasizes the specialized areas of study, certificate programs and experiential learning opportunities we provide to the students at Widener Law Commonwealth," said Dean Johnson. "Our passion lies in providing students with a high-quality legal education to ensure they are practice-ready upon graduation."
"I am proud to see that U.S. News & World Report has once again recognized Widener Law Commonwealth in its ranking of top law schools, and has strengthened its ranking over last year," said Widener President Julie E. Wollman. "This distinction confirms what we already know about the law school – that its commitment to student achievement and success make Widener Law Commonwealth a top choice for legal education."
Specialized areas of study include the Law and Government Institute, Business Advising Program and the Environmental Law and Sustainability Center. Law students also have the opportunity to earn practical experience in Pennsylvania legal practices at the Central Pennsylvania Civil Law Clinics.
Widener University is a metropolitan university that connects curricula to social issues through civic engagement. Dynamic teaching, active scholarship, personal attention, applied leadership, and experiential learning are key components of the Widener experience. Widener University Commonwealth Law School is the Pennsylvania capital's only law school, with three specialized centers of legal scholarship through its Law & Government Institute, Environmental Law and Sustainability Center, and Business Advising Program. Widener Law Commonwealth offers an exceptional learning experience that is personal, practical, and professional. Visit commonwealthlaw.widener.edu for more information.