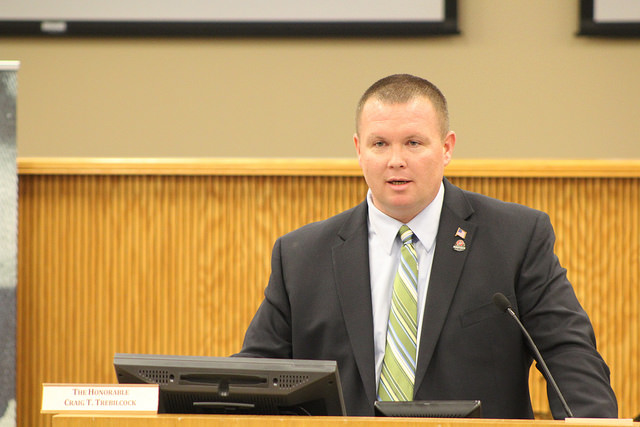 OCT 25, 2018 THURSDAY
Law school holds lecture to educate legal community about veterans treatment courts
Now an employee in the court where he was once a defendant, Timothy Wynn is grateful for every opportunity he has been given because of his successful completion of a veterans treatment court program.
Wynn, a certified peer specialist in the Philadelphia Veterans Treatment court, is a former US Marine Corps sergeant who had multiple brushes with the law and suffered from drug addiction prior to his time in veterans treatment court. Wynn spoke as a graduate of the program during a half-day seminar held at the law school.
The event, Veterans Courts in Pennsylvania: Ensuring Success for the Veteran, included three panel discussions with experts. It educated the legal community about the needs of veterans and the services provided by veterans treatment courts.
Veterans treatment court assists veterans charged with crimes, who are struggling with addiction, and mental illness. The program requires participants to make regular court appearances and attend drug treatment sessions.
The keynote speaker at the event, Melissa Fitzgerald, is director of the Advancing Justice Initiative, and a nationally-known advocate for veterans courts. Fitzgerald was also an actress on the West Wing television series. In her remarks, she expressed the pressing need for funding and services to meet the needs of veterans in the court system.
"We are in the moment where we need to double down on programs that have been proven to work," said Fitzgerald. "Veterans fight for our freedom every day and now it is time for us to fight for theirs."
The Advancing Justice Initiative was launched by Justice for Vets, which has helped to establish more than 200 veterans treatment courts and trained more than 3,000 court staff. Justice for Vets is a division of the National Association of Drug Court Professionals.
Dean Christian Johnson, who was appointed to the Veterans Task Force by Lt. Gov. Michael Stack, added that he is proud of the support the law school is able to provide to veterans.
"The men and women who serve our country are some of the bravest I have had the privilege of knowing," said Johnson. "And, sometimes they need a little bit of help. Veterans courts are a needed resource in our community to help those who have fought for our freedom to regain their own."
Click here to view the photos from the event.