Stephanie Nycum Doliveira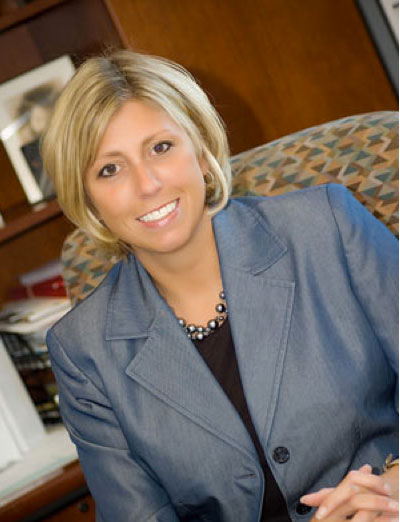 Representing the Voice of Employees
"I believe that law school was a great foundation for my career as an HR executive. Skills learned and developed in law school," Stephanie Nycum Doliveira '96 says, "are very applicable in the business arena."
At Penn State, Stephanie majored in Labor and Industrial Relations, and one of her professors inspired her to go to law school. "While in college, I took courses in Labor law and Employment Discrimination law. I loved both classes, and a professor suggested that I consider becoming an employment attorney," she says, adding, "In addition, my dream has always been to lead a large HR department, and I was convinced that a law degree, and experience with employment law, would give me an edge as I was pursuing my dream."
Now the Vice President of Human Resources at Sheetz, Inc. – a family-owned and operated chain of more than 400 convenience stores based in Altoona, Pennsylvania – Stephanie is "Responsible for setting the strategic direction for all aspects of Human Resources for Sheetz," and spends a great deal of her time visiting Sheetz stores to talk with employees.
"The most challenging aspect of my job is to consistently provide solid strategic planning for our organization's rapid growth," she says, adding, "Each year, we build 25 to 30 new stores. Attracting the right talent for each store, ensuring every person gets the proper training and development and ensuring we have the right management team at each store is a challenge. In addition, we are committed to providing a great place to work for every employee."
Before becoming the Vice President of Human Resources, Stephanie held several other jobs at Sheetz, including serving for two years as the Human Resources Manager at the dedicated petroleum carrier for Sheetz, CLI Transport, six years as the Manager of Employee Communications, and a year as the Co-leader of the Brand Development Department, which included oversight of all Public Relations and Consumer Research. Prior to joining Sheetz, she practiced labor and employment law with the firm Andrews, Wagner & Beard in Altoona.
"Leaders in organizations need to be able to thoroughly analyze situations in order to solve problems. Strong verbal and written communication skills, which are honed in law school, are a must in almost any professional setting. As the person responsible for representing the voice of our employees, advocacy skills are always beneficial when presenting new ideas or concerns to our executive committee," Stephanie observes of the value that her legal education has provided her.
"Practicing law outside of a traditional law firm can be extremely rewarding," she declares before advising that students interested in practicing in a non-traditional setting "seek out alumni or other contacts that are currently in that role."
"I think that finding what you are passionate about is the key to happiness in a job or career," Stephanie says, adding, "Once you know what ignites the fire in your belly, you can begin to find firms, companies or organizations that match it, and they can benefit from your skills and passion!"