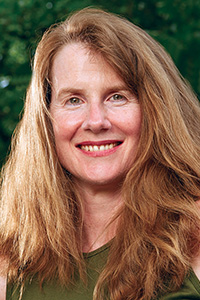 NOV 19, 2020 THURSDAY
Earth in Trust: Inalienable Rights for a Collective Ecological Future (Environmental series)
Register to attend on our Eventbrite page. One substantive credit subject to approval.
Mary Christina Wood is a Philip H.Knight Professor of Law at University of Oregon and Faculty Director of the law school's nationally acclaimed Environmental and Natural Resources Law Program. Her research focuses on a fundamental rights approach to ecological restoration and distribution of resources. She is one of the foremost authorities in the world on the pubic trust principle and is widely credited with originating the approach used in youth-led litigation across the U.S. and in other countries around the world invoking the principle to hold government accountable for promoting the fossil fuel energy system. She is a frequent speaker on global warming issues and has received national and international attention for her sovereign trust approach to global climate policy.
Professor Wood is author of Nature's Trust, Environmental Law for a New Ecological Age (Cambridge University Press), as well as textbooks, book chapters, monographs, and articles spanning environmental and natural resources law, tribal sovereignty, and climate crisis.