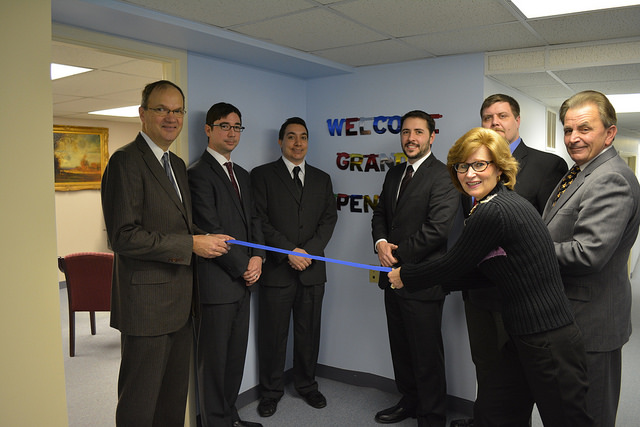 APR 2, 2015 THURSDAY
Widener Incubator Program Helps Launch New Lawyers in Harrisburg
Nerve wracking but exciting. This is how 2014 Widener Law Commonwealth graduate Mark Calore describes his first few months in the law school's innovative new incubator collaboration.
"My first few client interactions were intense," Calore said. "I had experience in the civil clinic but this was different. There's no one watching over your shoulder here."
He said that he's already been to court a number of times for his clients, which is something he'd always wanted to do.
"It's exhilarating to be in a court room," Calore said. "People have been really nice to me. I am open about being new – they can probably tell. But I'm representing my clients; they are more nervous than I am, honestly."
The incubator, a concept supported by the American Bar Association and created by Widener Law Commonwealth together with the Dauphin County Bar Association, opened in January 2015 with three students including Calore, John Sweet, and Patrick Daniels.
Supervised by Widener Law Associate Clinical Professor J. Palmer Lockard II , the program provides the new legal professionals with office space at the Dauphin County Bar Association on Front Street in Harrisburg. In addition, the participating attorneys are given computers, printers, training in the work of building a law practice, mentoring, and networking support.
Calore has already handled a number of matters, including a change in paternity action, a custody dispute, a breach of contract claim, and a private criminal complaint.
"There's a lot of responsibility that comes along with these cases," Calore said. "But we have Professor Lockard and the DCBA, which helps."
Calore, Sweet, and Daniels are required to pay for their own malpractice insurance and must commit to provide 100 hours of pro bono legal work while in the program. MidPenn Legal Services, which is also housed at the Dauphin County Bar Association, provides the pro bono work. In addition, the new lawyers are being encouraged to take on "low bono" work. But the bulk of the incubator cases come from the Dauphin County referral program, according to Lockard.
The concept behind the incubator, according to Professor Lockard, is to provide skills training in the type of small or solo law practice that about 30% of Widener graduates start after graduation.
"The incubator also supports the value placed on public service by both Widener University and Widener Law Commonwealth," said Professor Lockard. "This is a great way to help clients who can't afford big firms or big legal bills. They get a hard working lawyer for a reasonable price."
There are some fee structures in place for the "low bono," or "modest means" matters that come through a service offered by Dauphin County Bar Association, but the Widener grads in the incubator program are mostly own their own when negotiating their hourly rates, retainer amounts and the timing of payment.
Calore said his sales experience prior to law school comes in handy. "Closing the sale really is the hardest part," he said. "Asking my clients whether they are prepared to pay today is tough. I am always making judgment calls, deciding my worth and assessing the value of legal matters."
Widener hopes to expand the incubator program to other areas outside of downtown Harrisburg. "We want more students to serve more clients in more places," he said. "We'd love to have a presence on Allison Hill, "he said, referencing a low-income neighborhood east of downtown. "We also know there is a need for low-cost services in places like Pottsville or Perry County."
As for Calore, he hopes that his business just continues to grow. "The wheels of justice turn slowly," he said. "I am focused on ramping up my business and bringing more clients in," he said. "But by far the most satisfying thing for me is that I'm able to put my clients at ease. People fear the legal process, and I can help them with that."