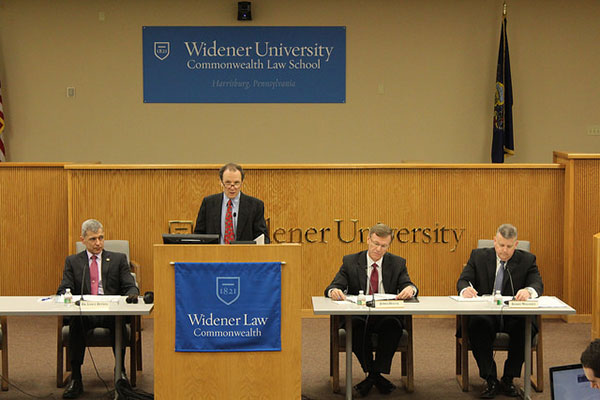 MAY 16, 2016 MONDAY
Military Law Symposium Tackles Critical Veteran's Issues
Nearly 100 active duty soldiers, veterans and lawyers gathered at Widener Law Commonwealth to discuss critical military law issues affecting soldiers and veterans.
Panel participants included high-ranking military leaders, renowned military law experts and administrators of organizations offering services to veterans.
The symposium, titled The Military, the Law and the Constitution, featured three panels: Ethics in Military Law; Constitution and the War on Terror and Taking Care of Our Servicemembers and Veterans.
The keynote address of the symposium was given by the Honorable Patrick J. Murphy, Acting Secretary of the U.S. Army. Murphy is a 1999 alumnus of Widener Law Commonwealth and the first veteran from the second Iraq war to be elected to the U.S. House of Representatives, serving Pennsylvania's 8th Congressional District from 2007-2011.
Military Symposium Videos
Click on the links below to watch the panel presentations.
Panel 1: Ethics in Military Law
Panelists: Dr. Lance Betros, Provost, U.S. Army War College; James W. Houck, VADM, JAGC,USN (Ret.), Interim Dean, Penn State Law; Kerry E. Maloney, Lt. Col., Command Judge Advocate, U.S. Army War College

Panel 2: Constitution and the War on Terror
Panelists: Victor M. Hansen, Professor of Law, New England Law; Harrold J. McCracken, Col., Faculty Instructor, U.S. Army War College; The Honorable Alissa Starzak, General Counsel, U.S. Army; Hina Shamsi, Director, National Security Project, American Civil Liberties Union

Panel 3: Taking Care of Our Servicemembers and Veterans
Panelists: David McLenachen, Deputy Under Secretary for Disability Assistance, Veterans Benefits Administration; Hollister Petraeus, Assistant Director
for Servicemember Affairs, Consumer Financial Protection Bureau; Jeremiah J. Underhill, Esq., Disabled Veterans Law Referral Service
Keynote Address: Patrick J. Murphy