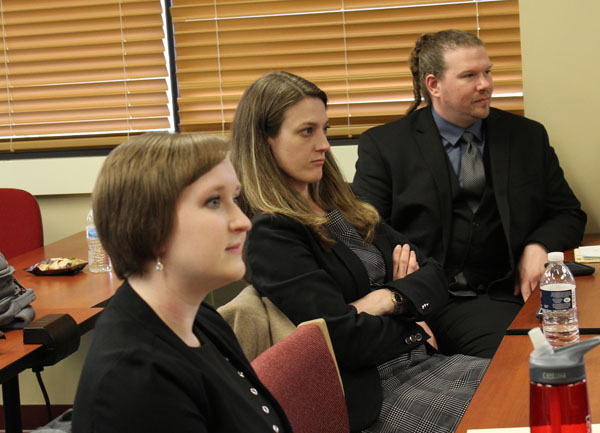 MAR 7, 2019 THURSDAY
Widener Law Commonwealth hosts transaction competition
Law students from Widener Law Commonwealth and Penn State Dickinson Law School got a chance to show off their transactional law skills on February 22 in the Mid Penn Invitational Transactional Law Competition.
The competition, hosted by the Business Advising Program at Widener Law Commonwealth, was the last stage in a two-month simulation designed to give law students a hands-on experience developing and honing transactional legal skills.
Each law school was represented by two teams that drafted and prepared documents negotiating the purchase of a fictional bottle company. The students drafted portions of an asset purchase agreement based on facts given to them by their fictional client. On February 22, the teams met to negotiate their final deal. Lawyers in Harrisburg and Wilkes-Barre donated their time to give feedback on the documents and judge the final negotiations.
The competition was generously sponsored by Mid Penn Bank. Rory Ritrievi '98, the president and CEO of Mid Penn Bank, is a member of the advisory board for Widener Law Commonwealth's Business Advising Program.
"The competition gave me the opportunity to learn how a merger and acquisitions attorney drafts an asset purchase agreement and how to negotiate one on the terms in the agreement," said Jerry Kincel, a third-year student on the team.
All of the Widener Law Commonwealth students participating in the competition are enrolled in the Business Advising Program. The program allows students to work toward earning a certificate that equips them to advise small and midsize businesses, as well as entrepreneurs starting businesses.
"The most valuable thing I learned during the drafting and judging process was how important every word choice in a legal document is," said Nicholas Platt, a fourth-year evening division student. "Ambiguities, whether intentional or unintentional, make huge differences and have lasting impacts."
Members of one Widener Law Commonwealth transaction team included Kara Kuntz and Nicholas Platt, both fourth-year evening students, and Sarah Rothermel, a third-year day student. The other team was comprised of Thomas Lopez and Natalie Potter, both second-year day students, and Seth Perago, a third-year evening student and Jerry Kincel, a third-year day student.
"Transactional skills are a key element of our Business Advising Program," said Professor Juliet Moringiello, associate dean for research and faculty development and director of the Business Advising Program. "The competition showed students how the legal doctrine that they have been learning throughout law school is essential to good drafting."
Widener Law Commonwealth students were coached by Julia Coelho '08. Coelho is a practicing attorney at McNees Wallace and Nurick with a focus in healthcare and corporate law.
Students from both law schools received one academic credit for participating in the competition.