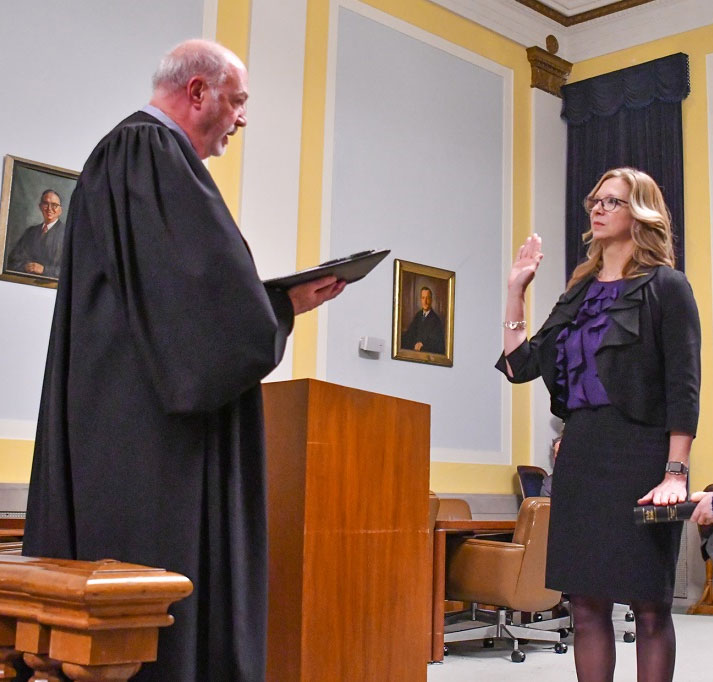 JAN 17, 2020 FRIDAY
Three WLC alums sworn in as first-term county district attorney, bringing total to seven
It's no secret that Widener University Commonwealth Law School prepares its students for future leadership roles in public service. After all, Widener graduates have landed jobs in every branch of state government. But did you know that more than 10 percent of Pennsylvania's top county prosecutors are Widener Law Commonwealth alumni?
A recent survey shows that seven of the state's 67 district attorneys attended Widener Law Commonwealth, including three newly-elected district attorneys.
Notably, two of these Widener Law Commonwealth graduates made history this month, as the first women sworn in as district attorneys in their respective counties. They are Leslie Childers Potts '03 in Bedford County and Heather Adams '97 in Lancaster County.
Lancaster County President Judge Dennis Reinaker, who administered the oath of office to Adams, noted the milestone and asked rhetorically, "How many years has our county been in existence?"
The answer: 300 years.
Adams, who previously worked as a prosecutor in the Office of Pennsylvania Attorney General and in the York County district attorney's office, said she is honored to serve Lancaster County and its citizens and praised Widener for providing a strong foundation for her career in public service.
"My time at Widener instilled a solid foundation for my pursuit of achieving ethical excellence throughout years of practice," she said. "I learned many principles of law from Professor (James) Diehm who was gracious enough to send a letter of congratulations following the November election."
Among the other Pennsylvania district attorneys boasting a Widener Law Commonwealth degree is David Sunday, who first took that office in York County in 2018. Because of Widener's evening class schedule, Sunday was able to continue to work at UPS while studying for his law degree.
"I will be forever grateful for the opportunity provided by Widener Law School," said Sunday, class of '07. "Working full-time and attending law school at night can be very difficult, however the understanding and supportive faculty and staff helped me to position myself for success."
The list of Widener-education district attorneys grows to eight with the inclusion of a member of the wider Widener Law School family. Francis Chardo, reelected in November to his second term as district attorney in Dauphin County, is a 1993 graduate of Widener University Delaware Law School.
"The Widener community is thrilled and proud that our graduates have not only risen but won election to serve in these vital and prestigious posts," said Christian A. Johnson, dean of Widener University Commonwealth Law School. "District attorneys play hugely significant role in ensuring their counties are safe and their citizens protected."
The other Pennsylvania district attorneys holding degrees from Widener Law Commonwealth are:
Krista Deats ('10) Reelected in 2019 to a second term as Tioga County district attorney
Michael Greek ('93) Elected 2019 in Carbon County
David Arnold ('96) Four-term district attorney of Lebanon County
Arnold just recently won his race for the State Senate's 48th district.
Tony Matulewicz ('06) Reelected in 2019 to a second term in Northumberland County