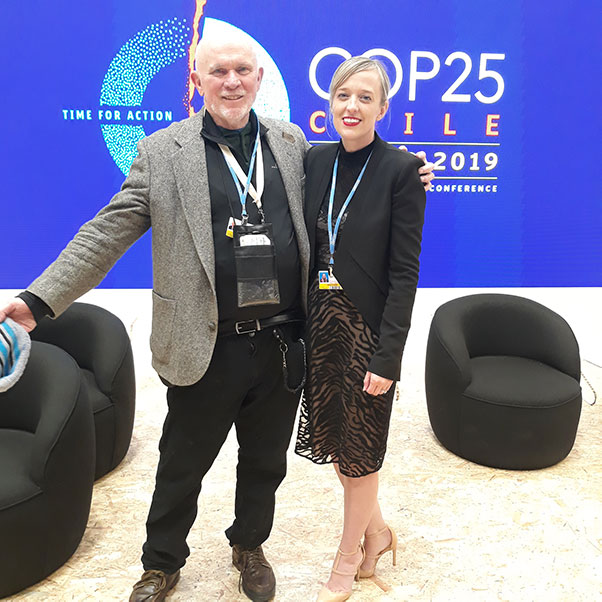 JAN 16, 2020 THURSDAY
Widener Law Commonwealth Addresses Climate Change at UN Meeting
Widener University Commonwealth Law School made a splash last month in Madrid at the United Nations Climate Change Conference (COP25), where some 200 nations met to address next steps in addressing climate change.
John Dernbach, Commonwealth Professor of Environmental Law and Sustainability Director, Environmental Law and Sustainability Center and Don Brown, scholar in residence for sustainability ethics and law, were among the featured panelists during the 12-day event.
Dernbach, an internationally recognized authority on sustainable development, climate change and environmental law, participated in two panels: "Low Emission Solutions," and "Governing by Goals: Do We Need Domestic Climate Laws?" Both panels highlighted technologies to address carbon in the global economy, which also is the focus of the findings published in a new book that he co-edited.
The book, "Legal Pathways to Deep DeCarbonization of the U.S.," lays out more than 1,000 legal tools at the federal, state and local levels and in the private sector, that are available to reduce U.S. greenhouse gas emissions by at least 80% by 2050.
"Ultimately, my message is a hopeful one," said Dernbach. "These tools can create jobs, help build businesses and the economy, reduce energy prices, and create other benefits. They are not just regulatory, which means that there should in principle be ways of building bipartisan coalitions to get these tools adopted and implemented."
Brown, who focuses on climate change as a moral and ethical issue, spoke on a panel entitled "On the Urgency of and Getting Traction for Ethical Principles to Guide National Responses to Climate Change."
He argues large countries have an obligation to help developing countries – which are most at risk feel the brunt of climate change - but that most nations are still ignoring ethical principles in national climate change policy formation.
"Failure to talk about the implications for getting nations to comply with their ethical obligations is indispensable to avoid catastrophic climate change," said Brown.
In November UNESCO awarded Brown the prestigious Avicenna Prize for excellence in climate change ethics. He was the first American to win the prize since the award's inception in 2003.
Christian A. Johnson, dean of Widener University Commonwealth Law School praised the participation of the two scholars at this international event.
"It is a great honor for Widener Law Commonwealth to be represented in such a prestigious global conference," said Johnson. "This is just one example of areas where we are making a difference outside of the classroom."