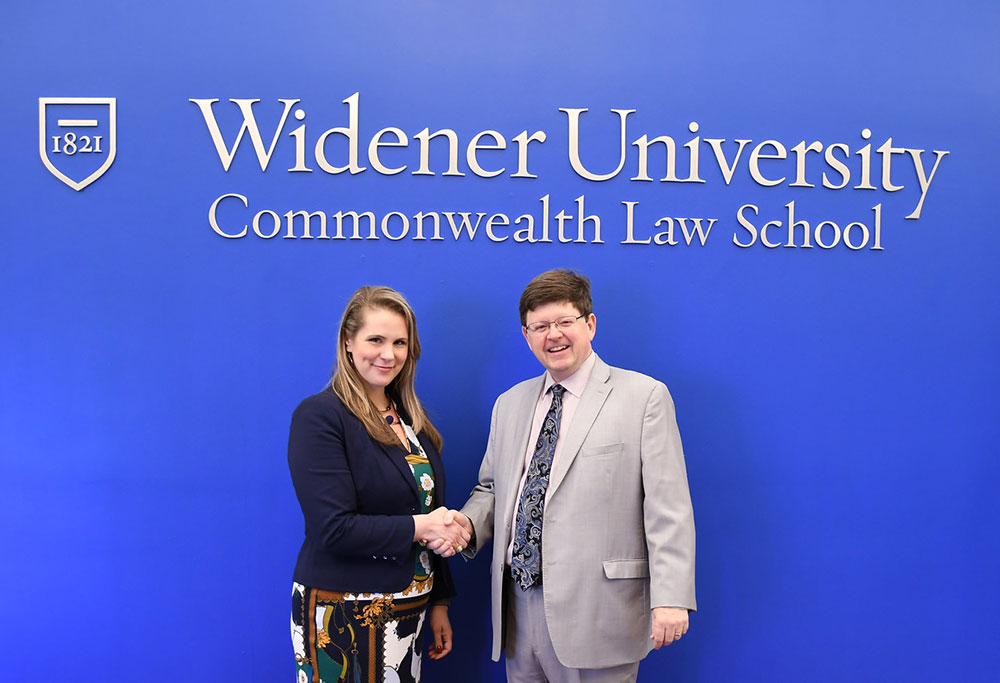 JAN 30, 2020 THURSDAY
Central Penn College and Widener Law Commonwealth Launch 5-year Law Degree Program
A new partnership with Central Penn College will allow high-achieving students the opportunity to complete their undergraduate and law degree in five years.
The schools joining forces on an innovative, "2+3" agreement where Legal Studies students at Central Penn can earn the final 30 credits of their bachelor's degree at Widener Law Commonwealth, while simultaneously pursuing their juris doctor.
In a signing ceremony Thursday at Widener Law Commonwealth, Dr. Linda Fedrizzi-Williams, President of Central Penn College, and Christian A. Johnson, Dean of Widener Law Commonwealth made the 2+3 program official with an articulation agreement between the two educational institutions.
"We are delighted to partner with Central Penn College, an innovative local school that works hard for its students," said Dean Johnson. "The 2+3 program is a successful model and provides real value, saving time and money. We are mindful of the high cost of college and law school and embrace opportunities like this one that make a difference for families."
"This agreement is a win-win for both of our institutions, and most importantly for our mutual students," said President Fedrizzi-Williams. "We are excited to join forces with Widener Law Commonwealth, our highly respected neighbor to the east, on this groundbreaking, student- centric initiative. For students focused on completing their law degree as quickly as possible, this program will prove to be a game-changer!"
To qualify for the 2+3 program, Central Penn students in a bachelor's program must:
maintain a cumulative grade point average (GPA) of 3.0 or higher
take the Law School Admission Test (LSAT) no later than February of their junior year and are encouraged to take it earlier if possible
earn an LSAT score at or above the median for Widener's prior year entering class
and have no disqualifying character issues
Under the 2+3 agreement, students who are accepted into Widener Law Commonwealth must attend full-time.