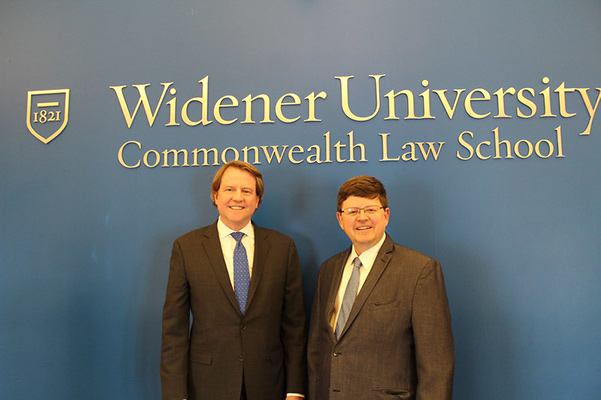 FEB 25, 2020 TUESDAY
From Widener Law Commonwealth to the White House: Alumnus returns to tell his story
Widener Law Commonwealth hosted alumnus Donald F. McGahn II '94, former White House Counsel to President Donald J. Trump, who conducted the continuing legal education seminar "The Legal and Regulatory Landscape in the Era of Trump."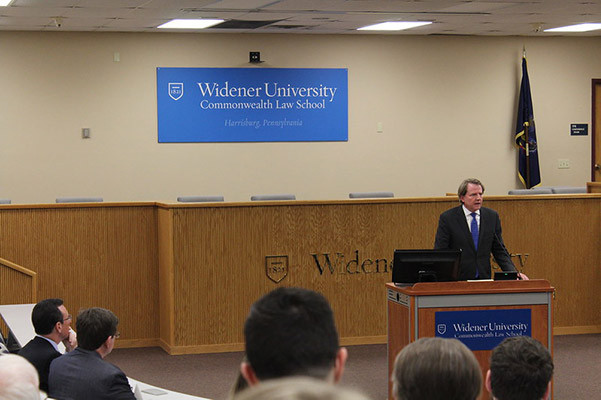 Speaking to a crowd of about 160, McGahn discussed his role leading regulatory reform during his nearly two-year tenure in the Trump administration.
McGahn said President Trump imposed a 2-for-1 rule to reduce the number of government regulations, eliminating two regulations for every new regulation promulgated.
"[In the past] they tried new regulations for the sake of new regulations," said McGahn. "A better model for success is to encourage people to comply and articulate clear standards."
McGahn fielded questions on how he became interested in the law and the judiciary (watching the Supreme Court nomination hearings for Robert Bork and Clarence Thomas), the role of a government lawyer (in his case, representing the President in his role as chief executive officer) and his role shepherding judicial nominees through the confirmation process (including two Supreme Court Justices).
McGahn bemoaned the drawn out multimedia event that confirmation hearings have become, but said streamlining the judicial selection process from a large committee to just two – he and the president – allowed Trump to move more quickly on selection and gave more time to meet with members of the Senate.
"I was the right guy for the first two years," said McGahn, who left the White House in October, 2018 and returned to the international law firm Jones Day.
"Widener Law Commonwealth is honored that one of our most esteemed alumni would return to share his insights and knowledge with our students and the greater Widener community," said Dean Christian A. Johnson. "Don McGahn's career trajectory from Widener Law Commonwealth to the White House is testament to what can be achieved with hard work and a good law degree."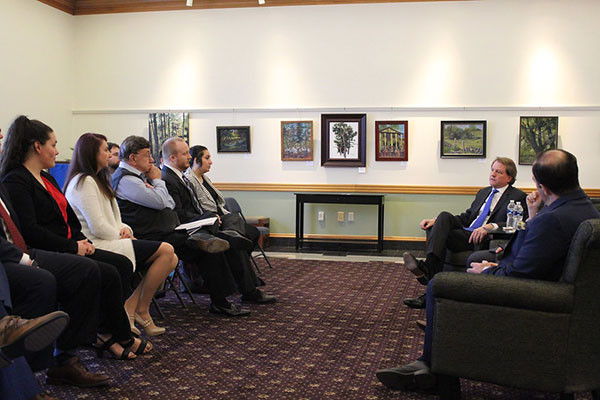 Prior to the seminar, McGahn participated in a "fireside chat" with a group of Widener Law Commonwealth students, offering observations on his career and dispensing advice.
"Don't be too wedded to one thing," he told them. "I thought I would be an entertainment lawyer." McGahn urged them to get practical experience during law school, learn from all levels in the workplace - those above and below you - and to "stay hungry."
McGahn began his tenure as White House Counsel on Inauguration Day, January 20, 2017. In this role he advised President Trump and his administration on a broad range of legal matters, including constitutional and statutory authority, executive orders, international agreements, tariffs, trade, administrative law, and national security.
McGahn returned to Jones Day in the Spring of 2019 and now leads the firm's Government Regulation practice, where he and represents clients before government agencies, in enforcement matters, and in litigation arising from government regulation or action.