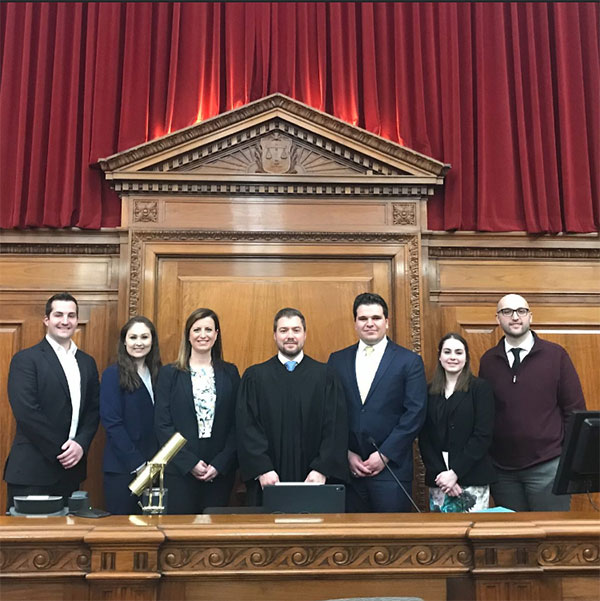 FEB 28, 2020 FRIDAY
Widener Law Commonwealth Takes Top Honors in National Mock Trial Competition
It was an all-Widener final in the mock trial competition last week at the 57th annual Academy of Trial Lawyers of Allegheny County Mock Trial Competition in Pittsburgh, with Widener Law Commonwealth prevailing in a matchup against Delaware Law.
The four-member Widener Law Commonwealth team was among ten teams from as far away as Alabama to compete this year.
Third-year student and team captain Michael Joyce was joined by fourth-year Amoreena (Amy) Bua as co-counsel. Kaylin Butler and Rebecca McCullough, both second-year students, played witnesses in the negligence trial.
The team practiced twice a week since December under the guidance of co-coaches and Widener Law Commonwealth alumni Joshua Traver '16 and Mark Kovalcin '17.
The competition took place over three days in the Joseph F. Weis, Jr. U.S. Courthouse. Each team was paired with a real-life expert medical witness, giving students the opportunity to direct and cross examine medical professionals.
The Widener team faced off first against the University of Alabama in a case involved a nursing home patient injured in a fall, before taking on Widener Delaware in the final.
"We thought it was really close, we didn't know how it would turn out," Joyce said.
Working lawyers served as judges in the competition. A student from a court reporting school served as court reporter in the trial and local high school students as jurors.
The competition began in 1963 as a friendly contest between the two area law schools, Duquesne University and the University of Pittsburgh. Today it ranks among the most prestigious mock trial competitions and includes law schools from all over the eastern United States.
Attorneys gave the team constructive feedback following the trial, Joyce said.
"They said we had a good theme and we worked well together," said Joyce. "They liked that we had an idea and a plan and executed it well."
Both Joyce and Bua have secured clerkships with judges following graduation. Joyce says he wants to pursue a career in litigation.