MAR 4, 2020 WEDNESDAY
Dean's Diversity Forum: Celebrates Centennial of the Harlem Renaissance: Law, Lawyers and the Pursuit of Excellence
Widener Law Commonwealth welcomed an esteemed panel of lawyers and scholars to the campus last Friday to commemorate the centennial of the Harlem Renaissance, the theme for the 13th annual Dean's Diversity Forum.
About 75 people were on hand to hear three panels cover a range of topics exploring the intersection of race, culture and the law, both historically and in the present day.
"Widener Law Commonwealth is fortunate to welcome such an esteemed group of lawyers and scholars, including our alumni, and talented students, to participate in this important event," said Dean Christian A. Johnson, who noted in his remarks that 30 percent of the incoming first year students are men and women of color.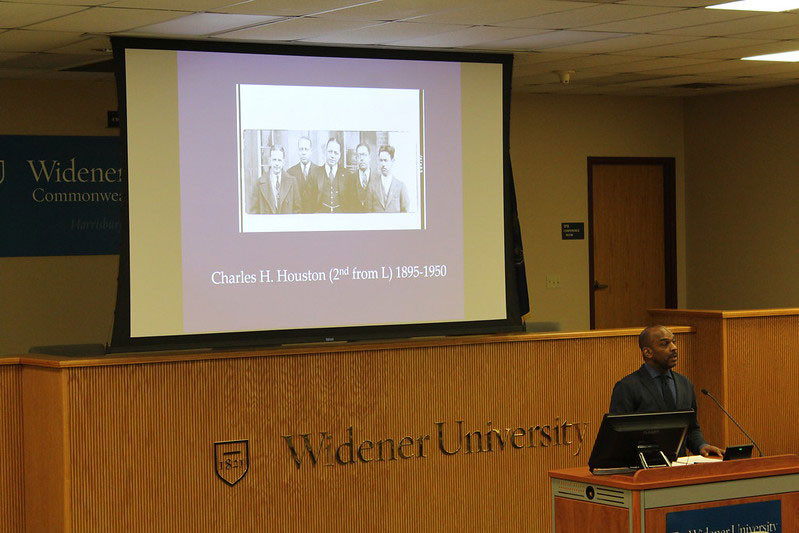 Kenneth Mack, Lawrence D. Biele Professor of Law and Affiliate Professor of History at Harvard University and author of Representing the Race, The Creation of the Civil Rights Lawyer, presented a talk entitled "Race and Representation: Lessons from the Lives of Civil Rights Lawyers."
Civil rights lawyers were practicing during the Harlem Renaissance, a time of exceptional creativity and robust thought, when Americans were asking "hard questions about race and identity," Mack said.
"Lawyers, like artists in the Harlem Renaissance, were renegotiating boundaries of race in the early 20th century and using the courtroom to do it," he said. "Law is a tie that binds us together."
In the panel "Law of the Arts and a Lawyer's Role in the Creative Process," two Widener Law Commonwealth alumni, Todd J. Shill '93, co-founder Pillar + Aught and Deryck Henry '95, of the law offices of Deryck Henry, discussed the impact of television on American culture.
Asked if television can influence culture, Shill, an entertainment lawyer who has worked with major film and television production companies on shows for many networks, said, indeed it can. Among Shill's clients was Levi Stoltzfus, star of the hit reality TV show, Amish Mafia.
"Look at the thirst for knowledge about the Amish. There's a reason [Stoltzfus'] book (Amish Confidential) was on New York Times best seller list," said Shill. "Not only did they change their culture, they've changed us because of the exposure."
Randall Westbrook, an education professor at Fairleigh Dickinson University and the Hon. Nathaniel Nichols, a retired Delaware County Common Pleas Court judge, discussed "The Harlem Renaissance and the Civil Rights Movement."
Westbrook talked about the challenges of integration and pointed to W.E.B. Du Bois, one of the leading African American intellectuals of the 20th century, prominent during the Harlem Renaissance, for his role in inspiring African Americans to pursue "an intellectual education," beyond the tradition vocational employment training.
"There is still more progress to be made," Nichols told CBS 21, which covered the event. "That will happen when we have programs like this, where people can dialogue, learn, and relate to each other."
Student leaders Calvin Pierre, president of the Black Law Students Association, Jennifer Bolivar, president of the Latin American Law Students Association and Richard Marcil, treasurer of the Asian Pacific Law Students Association, welcomed the guest speakers to campus and gave an overview of their efforts to provide support and fellowship for students of color. Salvatore Sciacca, editor-in-chief of the Widener Commonwealth Law Review, also offered welcoming remarks.