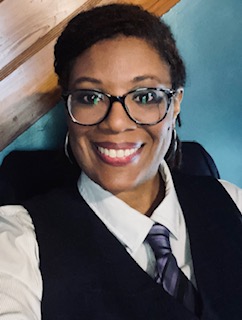 DEC 1, 2021 WEDNESDAY
Widener Law Commonwealth announces winner of prestigious Law and Government fellowship
Adrianne McClendon, a fourth-year law student at Widener University Commonwealth Law School, has been awarded the Patrick J. Murphy Law and Government Fellowship. This fellowship, established in 2017 by former PA Congressman Patrick J. Murphy, a 1999 alum of Widener Law Commonwealth, provides the award recipient an opportunity to assist with the leadership of the law school's Law and Government Institute.
Each Murphy Fellow will spend time during the academic year on a variety of duties, including researching government law issues, representing the institute to the student body, interacting with policymakers, alumni and other members of the law school community, and planning institute activities. WLC students who apply for the fellowship must have completed at least one year of law school and are selected by a committee which reviews submitted resumes and a short personal statement from the student. Each fellow receives a grant of $1,250 per semester.
"I'm very honored and humbled to have been chosen as a Murphy Fellow," McClendon said. "I am looking forward to this fellowship as it will allow me to continue to build upon my legal and governmental experience and skills. I see this as a great opportunity to work with leadership at Widener Law Commonwealth and hopefully mentor and encourage other students in achieving their legal career goals."
"Adrianne has impressed our faculty with her continued drive and enthusiasm to learn, including her current work with the Pennsylvania Department of State and as a member of the Law and Government Student Society here at Widener Law Commonwealth," said Widener Commonwealth Law Dean Michael Hussey. "I am confident her experience as a Murphy Fellow will be invaluable and further her legal education and experience."
"Four years ago, I partnered with Widener Law Commonwealth to establish a fellowship to help law students gain exposure to other areas of government and law," said Murphy, who currently serves as the Distinguished Chair of Innovation at the United States Military Academy. "WLC gave me a strong foundation that has helped me succeed, and I'm thrilled to congratulate Adrianne in being selected as a Murphy Fellow and know she'll continue to be a star as she approaches graduation."

Widener University Commonwealth Law School is the Pennsylvania capital's only law school, with three specialized centers of legal scholarship through its Law & Government Institute, Environmental Law and Sustainability Center, and Business Advising Program. Widener Law Commonwealth offers an exceptional learning experience that is personal, practical, and professional. Please visit commonwealthlaw.widener.edu for more information.