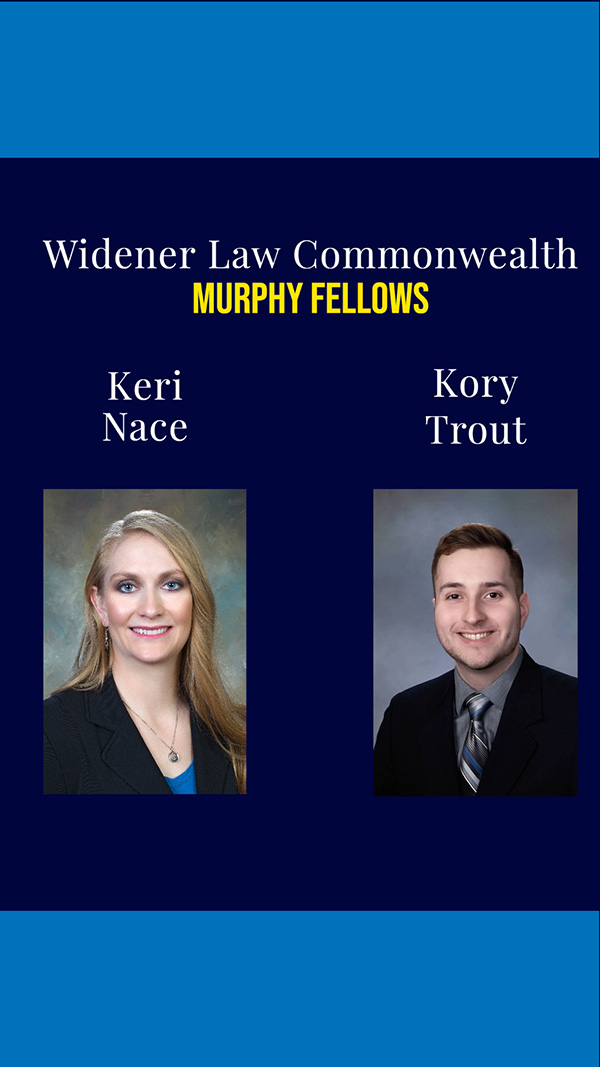 AUG 25, 2022 THURSDAY
Widener Law Commonwealth announces winners of its prestigious Law and Government fellowship
Widener Law Commonwealth students Keri Nace and Koury Trout have each been awarded the Patrick J. Murphy Law and Government Fellowship for the 2022-2023 academic year. This fellowship, established in 2017 by former Pennsylvania Congressman Patrick J. Murphy, '99, provides both students an opportunity to assist with the leadership of the law school's Law and Government Institute.
Each Murphy Fellow will spend time during the academic year on several duties, including researching government law issues, representing the institute to the student body, interacting with policymakers, alumni and other members of the Widener Law Commonwealth community, and planning institute activities. WLC students who apply for the fellowship must have completed at least one year of law school and are selected by a committee which reviews submitted resumes and a short personal statement from the student.
"I'm very excited to have received this honor," said Nace, a third-year student. "I am confident that my experience as a Murphy Fellow will increase my knowledge and understanding of how law and government intersect while simultaneously allowing me to assist in the valuable work being done. I look forward to an enriching and challenging year."
"I'm honored to be recognized as a Murphy Fellow and excited to collaborate with Secretary Murphy and our Law and Government Institute," said Trout, also a third-year student at the law school.
"Our faculty were very impressed with the backgrounds and experience of Keri and Kory, especially their desire to learn more about law and government and play a vital role in promoting civic education," said Widener Law Commonwealth Dean Michael Hussey. "Keri has already established herself as a substantial leader and mentor for other students, not only in her academic excellence, but her professional experience working with the Pennsylvania Office of the State Inspector General as a special investigator. From an early age, Kory understood the importance of participating in our democracy, and his ambition clearly shows in his active involvement on campus and in his externship work with the Pennsylvania Office of the Attorney General and in other areas of state government. Participating as a Murphy Fellow will certainly be a rewarding and invaluable experience for them both."
"This fellowship, which is now in its fifth year, has been instrumental in helping law students at Widener Law Commonwealth gain experience and exposure to a variety of areas within law and government," said Murphy, who was the first Iraq War veteran elected to Congress and later served as the 32nd Under Secretary and acting Secretary of the Army. "I'm pleased to congratulate Keri and Kory on their selection as a Murphy Fellow, and I am confident their experience will provide them a strong foundation to help them succeed in their future law careers."
Widener University Commonwealth Law School is the Pennsylvania capital's only law school, with three specialized centers of legal scholarship through its Law & Government Institute, Environmental Law and Sustainability Center, and Business Advising Program. Widener Law Commonwealth offers an exceptional learning experience that is personal, practical, and professional. Please visit commonwealthlaw.widener.edu for more information.