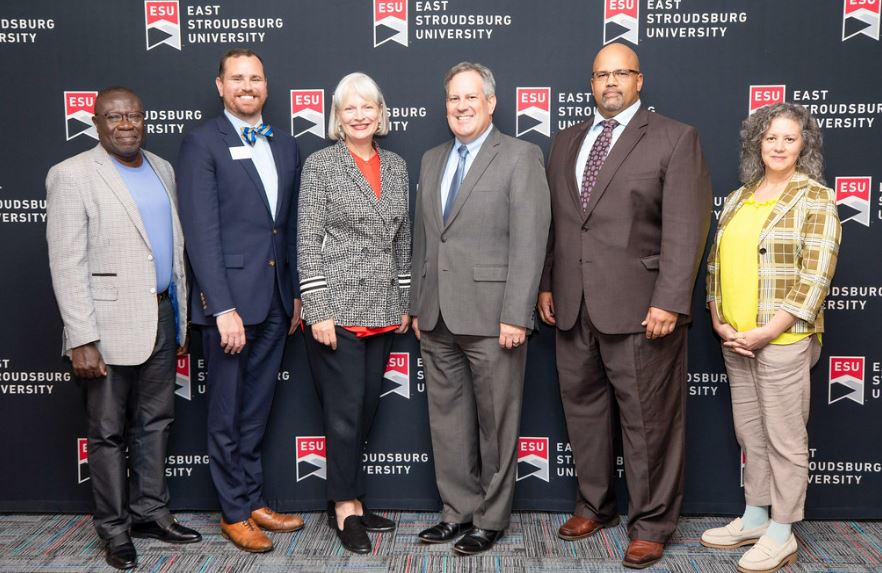 SEP 8, 2022 THURSDAY
Widener Law Commonwealth and East Stroudsburg University formalize 3+3 law degree program agreement
A partnership with Widener Law Commonwealth and East Stroudsburg University has been officially signed, providing ESU students the opportunity to complete their undergraduate and law degrees in six years' time.

In 2020, both institutions agreed to a 3+3 program, which allows undergraduate students to earn the final 30 credits of their bachelor's degree at WLC while simultaneously pursuing their juris doctor (J.D.) degree. Qualifying students must complete their major and general education requirements by the end of their junior year at ESU. Students must take the Law School Admission Test (LSAT) no later than February of their junior year and apply to WLC by April 1 of their junior year.
"We are pleased to formalize our partnership with East Stroudsburg University," said Michael Hussey, dean of Widener Law Commonwealth. "The 3+3 program is designed to help high-achieving students pursue their dream of a legal career at a quality law school, while also saving them significant time and money in pursuing their education. Our law school looks forward to working with ESU and its students."

"This collaboration with East Stroudsburg University and Widener Law Commonwealth will provide our students an immense opportunity to build on their academic success and work toward a successful and rewarding legal career, and we are excited to begin a strong and lasting partnership to benefit our mutual students," said Dr. Christopher Brooks, professor of history and pre-law advisor at East Stroudsburg University.
East Stroudsburg University, founded in 1853 and located in East Stroudsburg, Pennsylvania, is a comprehensive university in northeastern Pennsylvania, offering 58 undergraduate programs, 21 master's programs, and 2 doctoral programs. ESU is one of the 14 institutions in the Pennsylvania State System of Higher Education.
Widener University Commonwealth Law School is the Pennsylvania capital's only law school, with three specialized centers of legal scholarship through its Law & Government Institute, Environmental Law and Sustainability Center, and Business Advising Program. Widener Law Commonwealth offers an exceptional learning experience that is personal, practical, and professional.