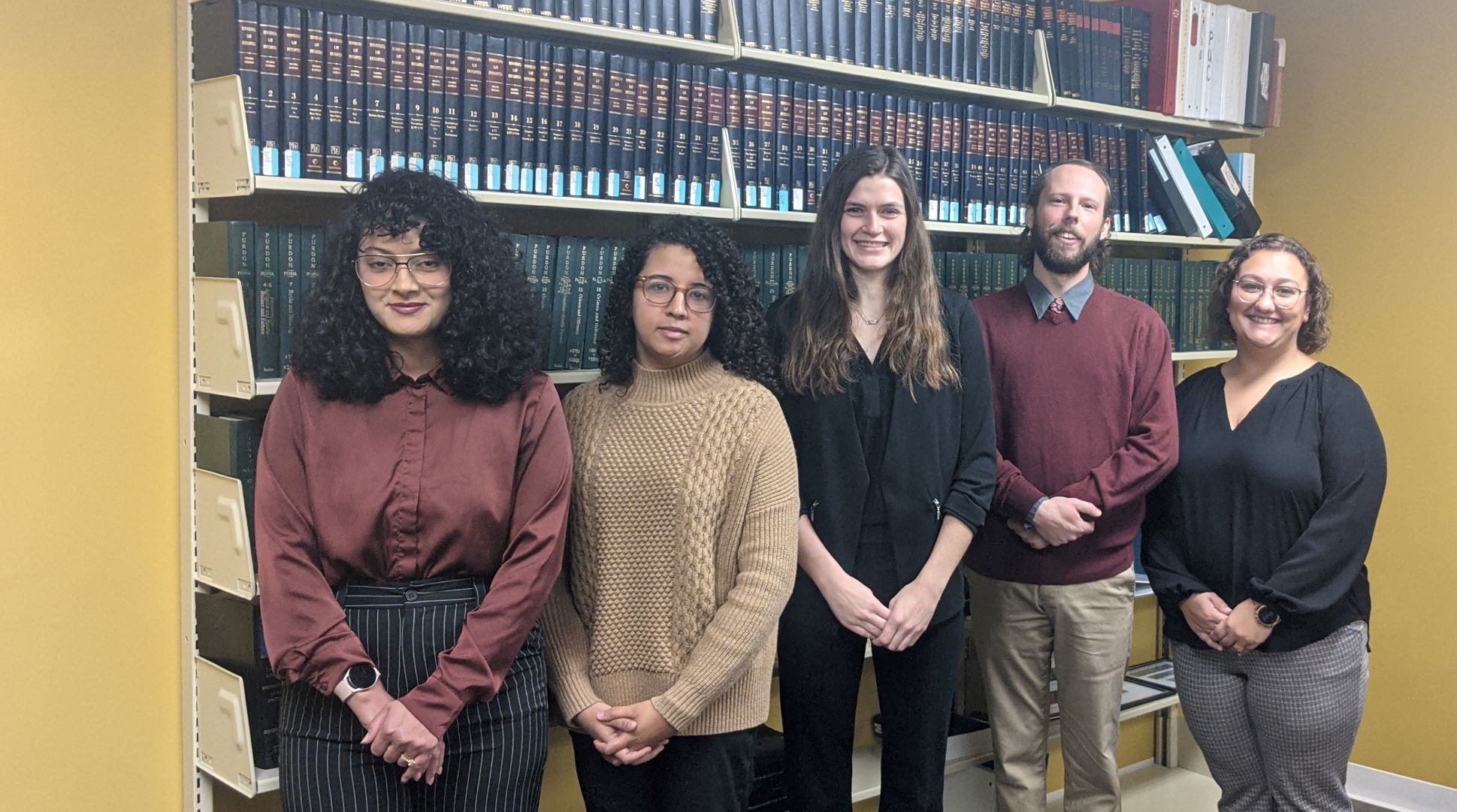 NOV 7, 2022 MONDAY
Making a Difference: WLC Legal Interns Participate in Elder Guardianship Program
Five students during the 2022 fall semester are taking part in a special program designed to protect elderly citizens of Dauphin County.
The county's Pro Bono Guardianship Monitor Program began in 2007 as a pilot program under the late Dauphin County Judge Todd Hoover, explained Central Pennsylvania Law Clinic Director Mary Catherine Scott. Scott, who serves as a pro bono guardianship monitor, supervises the legal interns and works with them to meet with the guardians and the ward (the elderly person) to ensure they are receiving proper care. Following these in-person meetings, the legal interns work with Scott to write a report that is delivered to the court, and if an issue is noted in that report, it prompts the court to follow up. Because there are many guardianships in the county that protect older adults and the clinic's elder justice focus, a partnership between the two just made sense, she added.
"This program is important because it's bringing awareness to law students that they otherwise might not have of guardianships and any abuse that takes place," Scott said. "It's a problem because there are so many guardianship cases, and the idea that nobody is there to review these cases is an issue for the court." Having the legal interns with the clinic involved in the monitoring program is a step in the right direction to ensure proper oversight of the elder guardianships, she added.
According to Dauphin County court officials, there are a total of 414 active guardianships in the county, including elder guardianships, with 71 pro bono attorneys and six paralegals monitoring 154 guardianships.
The legal interns who are supervised by Scott for the Fall 2022 semester for this program are Ashley Leonard, Kiersten Floyd, Gobrielle Francis, Tom Lang, and Harriet Leon. Five additional legal interns are slated to begin working with Scott in the program during the Spring 2023 semester.
The interns said they have found the experience has been eye-opening.
"It's an interesting area that I didn't know much about coming into law school or during my time in law school," Leonard admitted. She explained that her guardianship case has been challenging, because the guardians have not been willing to talk with her, or want to push off any discussions until the new year. "It does raise some eyebrows because you want to ensure the person is being taken care of, including during the holiday season," she added.
Lang agreed on the importance of being thorough in the overall assessment process. In reviewing reports and information in the cases, "you can see a lack of communication and you can see where problems could arise."
Leon, who has experience interviewing and assessing individuals, including for signs of neglect, remarked that the elder guardianship interview process "was different for me, because we're talking with someone who is taking care of someone and (in my previous experience), that wasn't what I usually ran into," she said. "It's quite a breath of fresh air to see how much somebody cared."
The experience has also opened Floyd's eyes to future pro bono opportunities, and after graduation, she plans on living and practicing in Lehigh County and wants to bring this type of program to the county. "I always thought it was more like a clinic where you're helping the less fortunate, but I didn't realize you could go this route (into elder guardianship) with pro-bono and I definitely want to do pro-bono throughout my career," she said.
"When I came into law school, I already had an interest in elder law," said Francis. "I'm interested in where (elder guardianship) intersects with elder law in identifying issues within the guardianship relationship to try to figure out if there's abuse or some kind of neglect going on. The crucial part is that you're meeting with these people in person, and talking with them and getting an assessment of what their environment is like, whether they're being taken care of or not. All of that important information just goes into a form (for the court), but that form is really important, because it's telling the court that you witnessed this and you're aware that this person is being taken care of and that the guardianship is working."
Being involved in the elder guardianship monitoring is truly impactful in the well-being of elders, said Scott.
"We're giving students an opportunity not only to practice law and to deal with referrals and work with real-world clients and people with real issues, but it's also an opportunity to do this pro-bono. It's something that really would go unassisted if it was not for pro bono attorneys and now the law clinic students."
Learn more about the law clinic and the elder guardianship program by clicking here to listen to our podcast.
(Pictured above, left to right: law clinic legal interns Harriet Leon, Gobrielle Francis, Ashley Leonard, Tom Lang, and Kiersten Floyd)