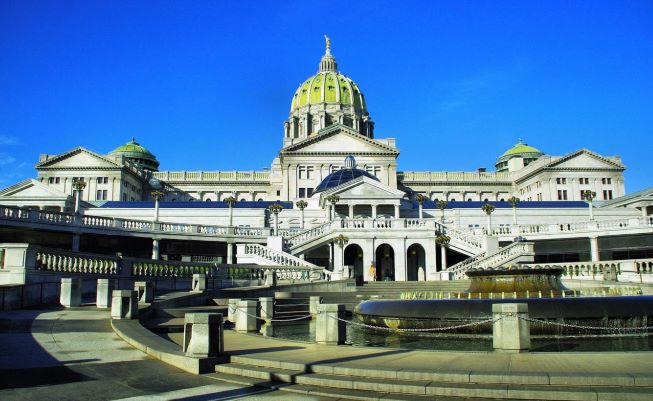 JAN 6, 2023 FRIDAY
Widener Law Commonwealth alumni sworn into PA House
On Tuesday, January 4, 2023, three Widener Law Commonwealth alumni were officially sworn into office and began serving their first terms in the Pennsylvania House of Representatives.
Prior to becoming state representative, Tim Brennan '03 started his law practice, Brennan Law Offices LLC, in 2008, representing injured workers as a certified specialist in workers' compensation law. Brennan previously worked in the Pennsylvania Governor's Office of General Counsel, representing the state Department of Transportation. His legal experience includes serving as a controller solicitor and assistant solicitor for Northampton County and as assistant solicitor for the city of Bethlehem. Brennan also served as a councilperson for the city of Doylestown and as an adjunct professor at Northampton Community College.
Thomas Kutz '22 previously served as a commissioner in Lower Allen Township in Cumberland County, PA, and as a member of the Yellow Breeches Watershed Association. During his time at Widener Law Commonwealth, he was president of the Federalist Society, the Federal Bar Association, and the Republican Law Students organization. Kutz also served as an associate staff editor for Widener Law Commonwealth Law Review and as a research assistant for Professor Chris Robinette. His prior legislative experience includes work as a law clerk for the Senate Republican Caucus Office of General Counsel and as a policy director for the Pennsylvania State Senate.
Tarah Probst '03 is no stranger to public office, becoming the first female mayor of Stroudsburg in 2015. She spent several years in corporate marketing, and later became a business owner with her husband, owning the Charcuterie restaurant in downtown Stroudsburg. Before being elected to the Pennsylvania House of Representatives, Probst also worked for Brookdale Premier Addiction Recovery in Scotrun, PA., and served on a variety of commissions and organizations in the Stroudsburg region.
Congratulations to each of these fine alumni and we wish them the best of luck in their new roles!