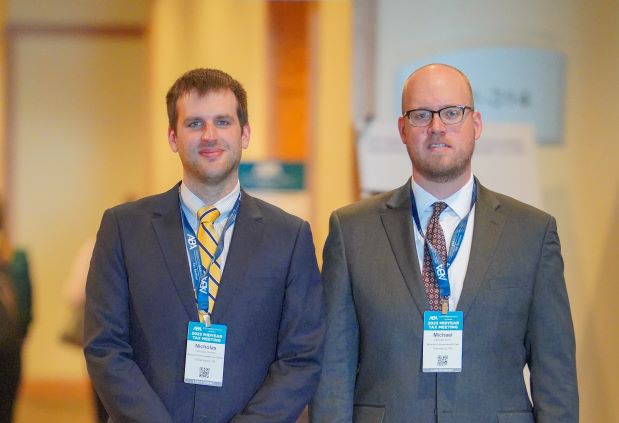 FEB 22, 2023 WEDNESDAY
Widener Law Commonwealth Students Tackle Tax Challenge
Nicholas Grimes and Michael Kohn have been named semi-finalists at the 22nd Annual Law Student Tax Challenge Competition, a national tax competition hosted by the American Bar Association and held during its midyear meeting.

This challenge, organized by the ABA Young Lawyers Forum, provides an alternative to traditional moot court competitions by allowing two-person teams of students to solve a complex business problem that may arise in everyday tax practice. This year's challenge covered IRC 7872 Gift Loans, IRC 1271-1275 Original Issues Discount, and IRC 6320-6330 appeals procedure.

The teams are first evaluated on two criteria: a memorandum to a senior law partner and a letter to a client explaining the result. Six two-person teams from the J.D. division and four two-person teams from the LL.M division are ultimately chosen from across the country to attend the midyear meeting. Each team then presents its submission before a national panel of judges, including some of the top tax practitioners and tax court judges in the nation.

In November 2022, both Grimes and Kohn submitted the items as requested in the challenge. They were notified a month later that their work was chosen as one of the six best in the country, earning them an opportunity to represent Widener Law Commonwealth at the ABA's 2023 Midyear Meeting in early February in San Diego, CA. The trip offered them the opportunity to meet students from several law schools around the country who were also taking part in the challenge, including the University of Miami, Northwestern University, Brigham Young University, University of California, Syracuse University, St. Thomas University, and Boston University.

Grimes said the entire competition was a fantastic experience. "We learned so much about tax law, legal writing, and oral advocacy during this competition. Aside from the competition, the opportunity to network with other students and more than a thousand professionals and employers at the midyear meeting was invaluable."
"The Law Student Tax Challenge Competition was indeed challenging and well worth the effort," said Kohn. "We sharpened our reading and writing skills and gained a specialized experience in legal research and tax law. We wouldn't have made it without the mentorship support of Business Advising Professor Christian Johnson, and outstanding work by Nick. A special thank you to the distinguished alumni that also provided guidance."
"All of us at Widener Law Commonwealth are proud of the dedication and hard work of Nick and Michael," said Professor Johnson. "This experience gave them tremendous learning and networking opportunities that will certainly reap rewards for them both, now and in the future."

Photo credit: American Bar Association