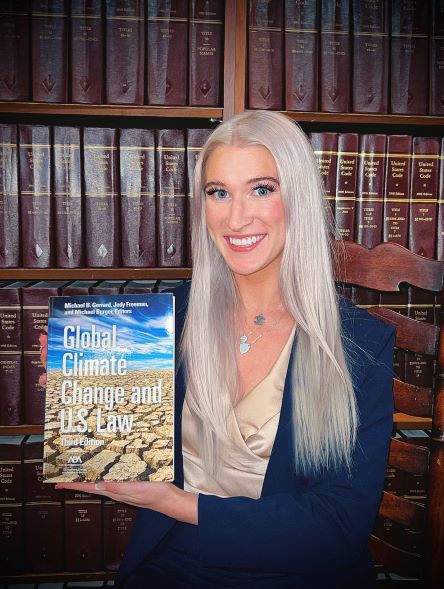 MAR 2, 2023 THURSDAY
From Research Assistant to Co-Author: Student Rachel Jones Makes an Impact
Rachel Jones didn't anticipate her research work for Environmental Law and Sustainability Professor John Dernbach would result in her co-authoring a chapter with her professor in a leading environmental legal textbook.
But that's exactly what happened.

It all began after her first semester at Widener Law Commonwealth, shortly after grades for the first semester were announced. "I met with him on Zoom to go over my exam and he was impressed with my work from the prior semester and wanted to know if I ever had time for research," Jones explained. "The following week, he sent me my first research assignment. It wasn't until then that I realized what I had signed up for, but I'm so glad that I did," she added.

Jones enjoyed her work with Professor Dernbach, and after a few months of researching a variety of projects for him, he informed her about a book he had previously contributed to that was going to be released and that he was responsible for updating his chapter. The book, Global Climate Change and U.S. Law, included a specific chapter dealing with the evolution of climate law and policy in the United States.

"A lot had changed in the world of climate policy since the prior edition, including the changing of multiple presidential administrations," Jones said, and Professor Dernbach encouraged her to begin drafting the language for the chapter, which she said surprised her.

"This was a change from what I had been doing for him, because previously I had only been providing memos and analyzing whatever topic he wanted me to look at, and then he would use my research to form his own writing," Jones said. "Once I was tasked with the actual writing, I learned how to present a complex body of information in an objective and succinct way that would give readers a good background without too much scientific detail."

Despite the fact she didn't have previous experience with the material, Jones found it to be a great learning experience, specifically the process of writing and editing a law book. "I was surprised that in the two years we worked on this project, the research and writing aspect took less than half of that time, and the editing and revising aspect took more than a year," she explained. "I learned that this process involves conceding on some points and pushing back on others before sending the draft back. As Professor Dernbach would say to me, 'this can't just be good enough for student work, this can't even just be good enough for law review work, this has to be good enough for the professionals who work with this material every day.'"

Jones also learned a great deal about the legislative and administrative processes involving environmental law, more than what she felt could have been learned in the classroom. "So many bills and rules get proposed that don't pass in their original form. Other times, a bill will become law and reverse policies in another sector of law. And other times, legislation will have a great impact on an area of law that isn't apparent on the face of the bill. I had to learn how to efficiently sort through thousands of pages of legislation allotting large sums of money to various agencies' budgets to determine where the money was actually going and to define what benefits Americans could expect to receive," she said.

As she looks ahead to commencement, Jones reflected on her law school experience, which also included being named class valedictorian. "I feel that I can honestly say I have a very well-rounded law school career that allowed me to get experience in criminal law, family law, civil law, constitutional law, environmental law, and more."

Do her future plans include writing? Jones said probably not.

"Because I didn't specialize in any particular area of law, I don't see myself writing a book in the near future. Maybe when I become as accomplished as Professor Dernbach or when I become more of an expert in a particular area, I will revisit that idea!"

She does offer this advice to current and prospective Widener Law Commonwealth students – take advantage of opportunities, even if they feel daunting.

"If you only take opportunities that you feel fit the path that you've determined for yourself, you will close yourself off from an entire world of knowledge and experience," Jones explained. "Don't say 'no' to things just because you want to lessen your workload. Taking advantage of only 'easy' opportunities will not take anything off your plate – it will just fill your plate with obligations that you won't be passionate about fulfilling."

Interview was conducted in Winter 2023.