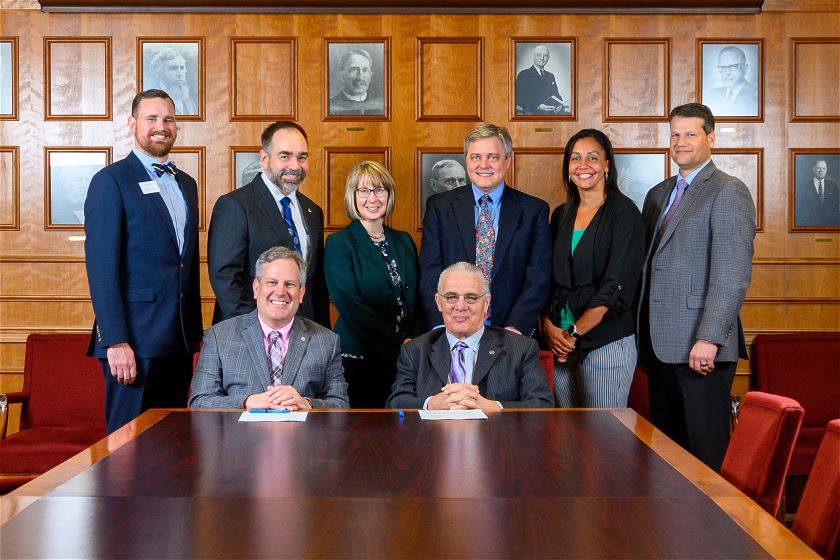 APR 21, 2023 FRIDAY
Widener Law Commonwealth and Lycoming College announce 3+3 law degree program agreement
Widener Law Commonwealth and Lycoming College have officially signed an agreement to provide Lycoming students the opportunity to complete their undergraduate and law degrees in six years' time.
This 3+3 program allows undergraduate students to earn the final 30 credits of their bachelor's degree at WLC while simultaneously pursuing their juris doctor (J.D.) degree. Qualifying students must complete their major and general education requirements by the end of their junior year at Lycoming. Students must take the Law School Admission Test (LSAT) no later than February of their junior year and apply to WLC by April 1 of their junior year.
"Widener Law Commonwealth is pleased to announce our partnership with Lycoming College," said Widener Law Commonwealth Dean Michael Hussey. "The 3+3 program will help high-achieving students make their dream of a legal career a reality, while also saving them both time and money in pursuing their education. We look forward to working with Lycoming College and its students."
"Lycoming College's pre-law program prepares high-performing students for law school entry with theoretical studies and LSAT preparation, as well as with hands-on experience through practicums, internships and other work experiences that can give them an edge," said Lycoming College President Kent C. Trachte. "The agreement with Widener Law Commonwealth serves to strengthen an already robust pre-law offering at Lycoming. Law school entrance can be incredibly competitive, and Lycoming is providing its students a favorable advantage through this arrangement."
The ceremony was attended by Pennsylvania Supreme Court Justice P. Kevin Brobson, who is a 1992 graduate of Lycoming College and earned his juris doctor from Widener Law Commonwealth in 1995. Brobson was instrumental in initiating discussions between both schools to consider the 3+3 partnership.
"This partnership between both of my alma maters is a significant win for students in an era of rising higher education costs," said Brobson. "It is a student-first approach, and I am very appreciative of President Trachte's and Dean Hussey's efforts to make this a reality."
Founded in 1812, Lycoming College is one of the nation's oldest and most respected liberal arts colleges. Today, our community of 1,200 active learners from 31 states and territories and 15 countries comprises a student body that is 35 percent domestic students of color or international, all of whom work with our renowned scholars to craft customized combinations of market-driven majors, minors and concentrations across our 40+ academic programs. Students compete in 19 NCAA Division III sports, participate in faculty-driven research, thrive in a robust program of internship experiences, and study abroad in more than two dozen countries. Lycoming College has one of the highest endowment-per-student ratios in the country. The institution is a member of the Annapolis Group of Liberal Arts Colleges and is recognized by The Princeton Review as one of The 388 Best Colleges. Lycoming College is dedicated to providing a high-quality liberal arts and sciences education for all students.

Widener University Commonwealth Law School is the Pennsylvania capital's only law school, with three specialized centers of legal scholarship through its Law & Government Institute, Environmental Law and Sustainability Center, and Business Advising Program. Widener Law Commonwealth offers an exceptional learning experience that is personal, practical, and professional.