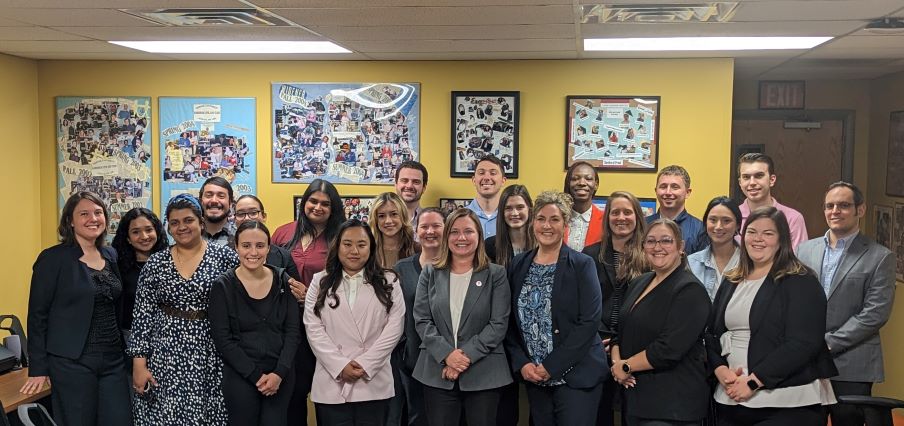 APR 26, 2023 WEDNESDAY
PA Attorney General Visits Central Pennsylvania Law Clinic
Central Pennsylvania Law Clinic students had the opportunity to hear from Pennsylvania Attorney General Michelle Henry '94 discussing her experience working in the clinic during her time attending Widener Law Commonwealth.

Assistant Clinical Professor and Clinic Director Mary Catherine Scott, who also graduated with Henry from the law school, invited her to meet with students and get a brief tour of the clinic.

Henry said her time at the law clinic was very helpful, as it "opened my eyes to the kind of work" she wanted to do after graduation, specifically a public service career, helping people.

She shared an experience during her time at the clinic involving a client accused of not maintaining her property. When she and another legal intern visited the client, they found the home was unfit and overrun by 60 cats. It made her quickly learn how important it was to be ready for whatever comes your way as an attorney.

"We had to quickly pull ourselves together and take the time to deal with this person from an empathetic way, and that (experience) has really stayed with me my whole career," she explained. "The clinic gives you that vital experience" to be able to connect with people and be able to help them.

Henry also emphasized to law students the importance of externships and related opportunities.

"To the extent that you can just ask to follow someone, or shadow them, or volunteer for a week, it's invaluable, and will give you a sense of what you're interested in doing."

As Henry shared with students how grateful she is for her rewarding career, she offered this final piece of advice to students as they look ahead to graduation and entering the legal field.

"If you can find a position or something that you're passionate about, and you love it, it is so, so worth it. It makes me feel good when I get up in the morning, I look forward to it."

Click here to view more photos from the visit.