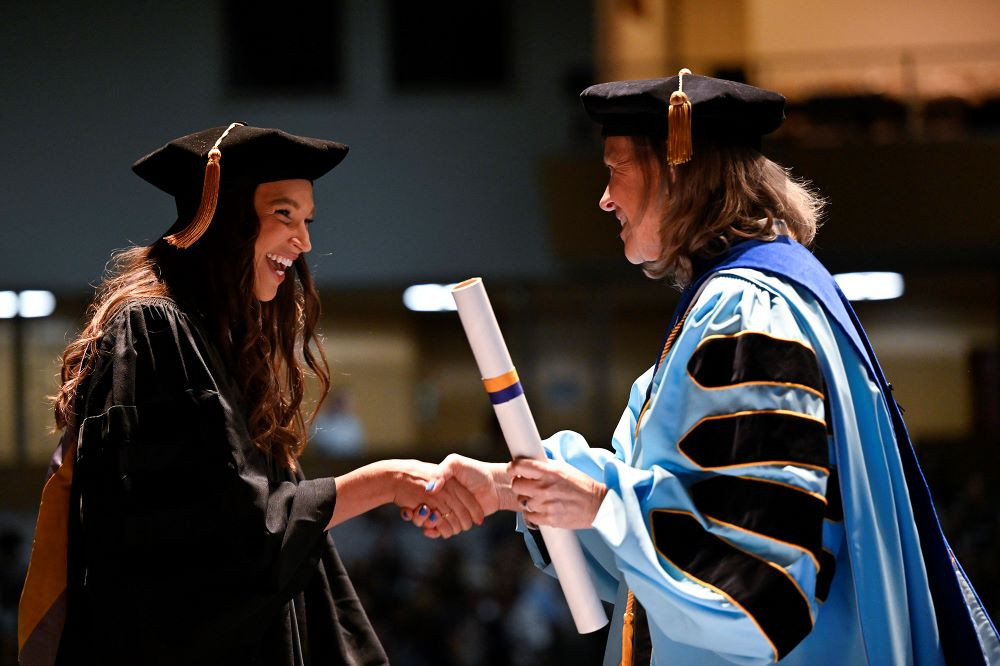 MAY 19, 2023 FRIDAY
Widener Law Commonwealth holds 32nd commencement ceremony
85 candidates for graduation took part in Widener Law Commonwealth's commencement ceremony Thursday at the Scottish Rite Theatre and Ballroom in Harrisburg.
Widener Law Commonwealth Dean Michael Hussey addressed graduates and attendees at the commencement ceremony, and urged new graduates to use their education to uplift communities.
"As soon to be lawyers, I encourage you to assume the inherent responsibility of being mindful of the marginalized, the pale, the downtrodden, the weak and the weary. As a law school graduate, you are now among the most highly educated people in the world. You should celebrate abundantly and be proud of your accomplishment. But be mindful to avoid the dream under the pride, a pride that is of arrogance or indifference. Remember that we are collectively defined by how we treat the least among us. With your training and your education, you are in a position to create influence and change."
Widener University President Stacey Robertson, who also spoke at the commencement ceremony, advised graduates to continue to grow by leaning into challenges.
"When left to our own impulses, we often choose what is the easiest and most familiar. Be willing to take risks, because this uncomfortable space where we take risks is where we grow. Failure is the best opportunity to learn and to get better. Do not let fear and doubt drive your life by creating a very limited space."
Valedictorian Rachel Jones reflected on the Class of 2023's challenging early days of law school.
"As a class, we all came to Widener Law Commonwealth in the first year of a pandemic. Most of us met virtually through Zoom school of law before we met in person. But that didn't stop us from making friends or receiving a quality education. Our dedicated professors came up with creative ways to keep us engaged. As we celebrate our accomplishments and earning our degrees, real life is about to begin, as well as a new version of ourselves – one that we've been envisioning and working toward for years. We all chose law school so that regardless of the kind of law features to practice, we would be able to live a life of purpose and meaning."
Paul Edger, '11, president of the law school's Alumni Board, reflected on the vast alumni body graduates have joined.
"Our practice areas are diverse. We are justices of the Pennsylvania Supreme Court, and judges of the trial and appellate courts across the United States. We are the attorney general of Pennsylvania. We are elected members to the state House of Representatives and the state Senate. We are public servants. We are nonprofit legal aid lawyers. We are in private practice in law firms, ranging in size from hanging our own shingle to working in the largest law firms in the world and every size in between. We are corporate executives running Fortune 500 companies as well as local grassroots organizations. Most importantly, each of us will use our wider education to improve the world in which we live, and to make the world a better place for the next generations."
During the ceremony, Widener Law Commonwealth Student Bar Association President Jane Michetti thanked Widener Law Commonwealth for giving her a chance to study law and join the Widener family.
"Our professors, and most importantly, our supportive staff, are second to none, providing us with an excellence education, helping us secure internships and jobs, preparing us for the bar, and most importantly, genuinely cheering us on and wanting us to succeed."
As part of the festivities leading up to commencement, a special student ceremony was held on the Widener Law Commonwealth campus on Wednesday, May 17, where more than 60 students were honored for their accomplishments and dedication to the law school. In addition, Commonwealth Professor of Business Advising Christian Johnson was awarded the 2023 Faculty Excellence Award at the event. Prior to the commencement ceremony, Associate Dean for Academic Affairs Juliet Moringiello was awarded the Douglas E. Ray Excellence in Faculty Scholarship Award.
Visit WLC's flickr page to view photos from commencement, the student awards ceremony and the graduation farewell event.
---
To purchase photos from the Lifetouch commencement handshake photographer, scan their QR code or text code 414366GY23 to 90738.