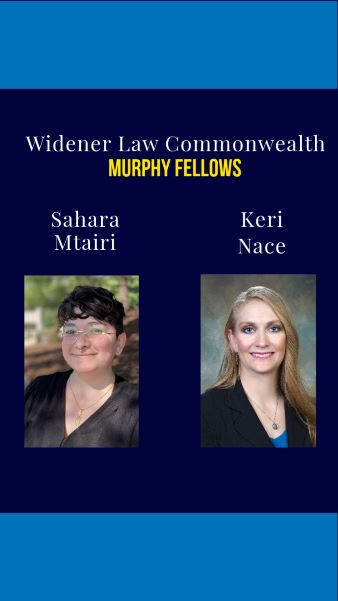 SEP 7, 2023 THURSDAY
Widener Law Commonwealth announces winners of its prestigious Law and Government fellowship
Widener Law Commonwealth students Keri Nace and Sahara Mtairi have each been awarded the Patrick J. Murphy Law and Government Fellowship. This fellowship, established in 2017 by former Pennsylvania Congressman Patrick J. Murphy, '99, provides students an opportunity to assist with the leadership of the law school's Law and Government Institute.
Each Murphy Fellow will spend time during the academic year on several duties, including researching government law issues, representing the institute to the student body, interacting with policymakers, alumni and other members of the Widener Law Commonwealth community, and planning institute activities. WLC students who apply for the fellowship must have completed at least one year of law school and are selected by a committee that reviews submitted resumes and a short personal statement from each student.
"I'm honored to be selected for a second year and am excited to continue learning," said Nace, a four-year extended division student who also won the award in 2022. "Last year, I was afforded amazing opportunities and experiences that offered insight into various aspects of government and the role that lawyers like Congressman Murphy play in making the world more just."
"I'm very excited and honored to be awarded the Patrick J. Murphy Fellowship and I look forward to doing more work in law and government," said Mtairi, a second-year student at WLC.
"Both Keri and Sahara have outstanding experience and a desire to further their knowledge in law and government to make the world a better place," said Widener Law Commonwealth Dean Michael Hussey. "Keri continues to impress our faculty with her leadership skills, including as a mentor to other students at Widener Law Commonwealth and her continued professional accomplishments while working with the Pennsylvania Office of the State Inspector General. Sahara has shown exceptional drive and ambition in researching public policy, which began five years ago while working on a political campaign. Her research on police reform led to the creation of a program in Bucks County, Pennsylvania to provide help to law enforcement responding to calls involving individuals struggling with mental health. Their experience will certainly provide Keri and Sahara with a strong foundation to succeed in their future legal careers."

"It's energizing to see our newest Murphy Fellows Keri and Sahara roll their sleeves up to ensure more Pennsylvanians have access to justice and a government that represents our shared values," said Murphy, who was the first Iraq War veteran elected to Congress and later served as the 32nd Under Secretary and acting Secretary of the Army. "In the six years since this fellowship was established, Widener Law Commonwealth students continue to gain valuable experience in several areas of law and government. Congratulations to Keri and Sahara on your selection as a Murphy Fellow, and I look forward to working hand in glove with you both in making a difference for our profession and our commonwealth."