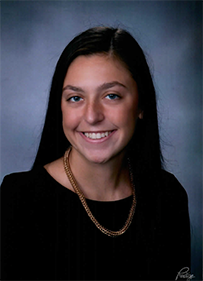 NOV 2, 2023 THURSDAY
Widener Law Commonwealth announces winner of the Reybitz Business Advising Program Fellowship
Abbigale Agosti, a second-year law student at Widener Law Commonwealth, has been awarded the Reybitz Business Advising Program Fellowship.
This fellowship is made possible by a generous donation from alum Ronald Reybitz '96, who serves as associate general counsel for PPL. It was designed to provide a qualifying law school student with the opportunity to receive mentoring from Reybitz and related business advising learning experiences. In addition, fellowship awardees will also assist with programing and related activities of the law school's Business Law Advising Program.
WLC students who apply for the fellowship must have completed at least one year of law school and are selected by a committee which reviews submitted resumes and a short personal statement from the student.
Agosti, who earned her bachelor of science degree in accounting from the Sigmund Weis School of Business at Susquehanna University, came to Widener Law Commonwealth with a substantial business background, having worked as an accounting intern at Snyder & Clemente and as an economics tutor assisting other students while in college. She also credits her father and uncle for giving her an early education into the business sector. Agosti is currently taking business organizations and federal income tax classes this semester at WLC.
"I am deeply appreciative to receive such an honor," said Agosti. "This opportunity is extremely important and humbling and I am eager to begin the esteemed journey of being a Reybitz Business Advising Program Fellow."
"Abbigale's enthusiasm to learn is infectious, as is her drive to succeed in business law, thanks in large part to the examples set by her father and uncle, who have been her mentors from an early age," said Widener Law Commonwealth Professor Christian Johnson, who oversees the law school's Business Advising Program. "We are extremely pleased to award her the Reybitz Business Advising Program Fellowship, as it will help her build upon her growing business acumen and legal foundation to succeed in her future law career."