Gabriella Romeo
Gabriella Romeo spent her 27th birthday alone, preparing for law school finals at Widener University Commonwealth Law School. She did not seem bothered by it at all.
"I love my birthday and I have loved every step of the law in law school. Not even a quarantine will change that," Romeo said.
Romeo, who will graduate in 2021, said that law school has brought together all of the different parts of her life, starting with how she found the "right" school.
"It sounds cheesy, but honestly, Widener found me," she said. "I had a friend from [my hometown] of DuBois who went here, and I drove in to attend the applicant picnic. I liked everyone I met, and it felt like home."
In many ways, it was home. Both of Romeo's parents are from the mid-state. Her paternal grandmother lived in Camp Hill and would make big Italian meals and have her over frequently.
"My grandmother literally got me through my first year," Romeo said. "She died in January, and I would never have had that time with her if I had gone somewhere else."
Romeo took three years off after graduating from Duquesne University, working in an insurance office doing marketing and also as a waiter, skills she said have served her well in law school.
"I loved working in customer service – it taught me how to talk to people, how to make sure I gave them what they wanted," she said. "I can see how this will help me in law practice; I have already learned how to listen and to connect."
Romeo got active the moment she arrived on campus, signed up to serve as a Student Ambassador for the admissions office.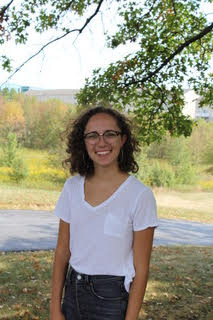 "Just like it was for me when I attended that picnic, it's important for prospective students to meet students who are already in law school," Romeo said. "I can help them get a feel for what our life is like. It's difficult. It's very rewarding. It's worth it."
Romeo has also served on the Student Bar Association, which she was just elected to lead as president next year.
"I was made to feel so welcome at Widener and want to foster that sense of community for others," she said. "As important as our academics are, they are not everything. Without the people relationships, it would be a very different experience."
Romeo said she is particularly excited that next year all eight members of the SBA executive team will be women.
As part of her work study job, Romeo has been the law school's photographer for one year, as well.
"This was a great job for me," Romeo said, adding that she goes to almost all the events anyway, so her job felt fun and easy.
Romeo joined Phi Alpha Delta, the law school fraternity, and is currently the vice president of the Women's Law Caucus, two other activities she has enjoyed and would recommend that others explore.
Romeo did an internship with the Domestic Violence Legal Center at the YWCA of Greater Harrisburg last summer and will be clerking for Killian & Gephart, LLP law firm this summer, despite the pandemic. She is interested in pursuing family law after law school, in many ways as a result of her own experience being part of a foster family.
Romeo said her parents took in her brother's best friend from pre-school, whose family was having a difficult time raising him and asked for help, informally at first. Her parents were given permanent custody of him when he was in fifth grade. Sadly, he died in an accident during her freshman year of college.
"I consider Gary to be my guardian angel now," Romeo said. "He didn't get great cards dealt to him in life and I saw what a difference family makes and also the positive impact he had on our family. We were all better together. I want to support other families helping children see that the world has so much to offer."
During the pandemic, Romeo has taken to sending handwritten notes in the mail to friends and family.
"I'm always Zooming and Facetiming, of course. But everyone loves to get mail!" she said.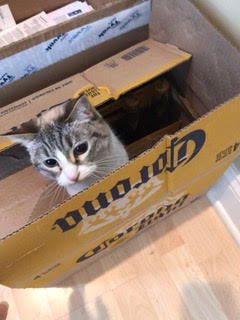 Romeo said her cat, Mia, has been good company during the stay-at-home order, and has even become a bit of a minor celebrity.
"She sits on my lap during every class and she's comical, purposefully knocking my pen off my table, begging for attention," Romeo said. "The other day, she jumped in an empty Corona beer box in my kitchen and got a good laugh from my class. It's like she knew what she was doing," Romeo said.
Mia has a consistent presence on Romeo's Facebook page and her very own Instagram account (@littlemiakitty), said Romeo.
Romeo encouraged anyone looking for a law school to pick the place they feel most comfortable.
"I've had such a wonderful experience at Widener. I'm not going to lie -- law school is stressful," she said. "You don't want extra stress, so pick a school you like, one with friendly people."
Interview was conducted in Spring 2020.