Hakan Sen
Desiring an outlet for his high energy and love of sports, second-year Widener University Commonwealth Law School student Hakan Sen founded a popular, student-run campus activity club.
"I work out to de-stress," said Sen, a native of Brooklyn who graduated from the John Jay College of Criminal Justice in New York City. During his first year at Widener, he reached out to Assistant Dean of Students Randi Teplitz to see if the law school could create more social opportunities around activities.
Teplitz's appreciative response? She appointed him the student representative to the law school's wellness committee. An organization was born.
Reflecting Sen's playful humor, the club is known as "PHEW," or Physical Health Exercise Wellness. He is its co-president.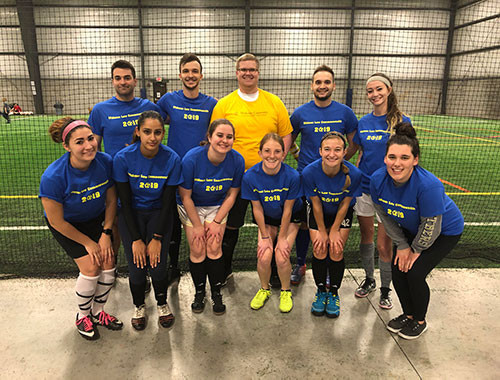 "We started with a student survey," Sen said. The result was the creation in the fall of a co-ed law school soccer team that plays in a local adult league at the Yellow Breeches Sports Center in nearby New Cumberland.
"We couldn't believe how many good athletes we had at Widener," Sen said. Team "Widener" is made up of 12 women and 12 men, including a male goalie who played for his Division 1 undergraduate soccer team.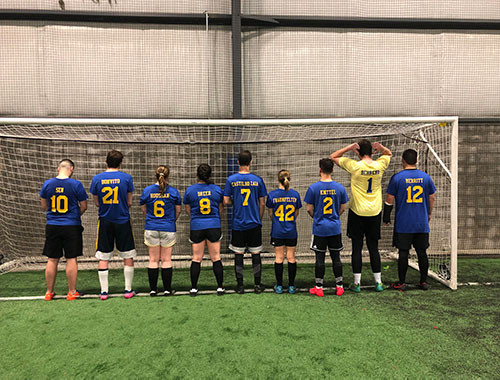 "Until our season was cut short by the pandemic, we were undefeated and heading to the league finals," Sen said. He added that the team is all about fun and that many Widener students come out to support the team at its games.
Sen said that his fellow PHEW board members have become his closest friends and include co-president Rachel Finnegan, Carolyn Dreer, Jessica Layton, Laura Rutledge, and Mikki Pelkey.
"We have had so much fun getting people up and moving," said Sen.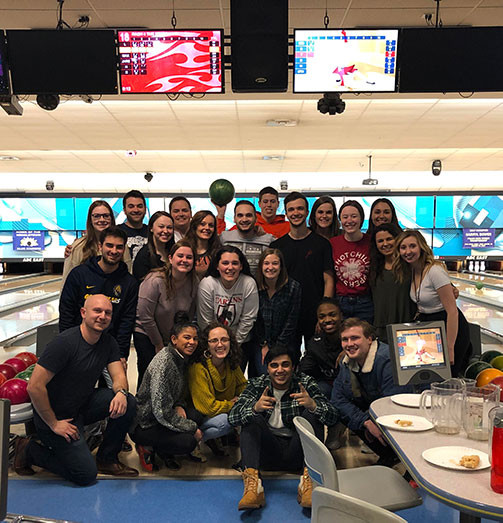 Other PHEW activities included a bowling night at nearby ABC North Lanes, several in-class wellness activities featuring health experts speaking on nutrition, stress, and mental strength, and a post-lockdown, Zoom-based virtual "Yappy Hour" for students, faculty, staff and their pets.
"We had so much more planned for the spring," Sen said, including mini-golf and an archery tournament.
Sen said that he has loved law school so far.
"Widener is really good at seeing potential and building on it, creating great students and attorneys," he said.
He would encourage any student considering law school to visit the Harrisburg campus. "Once you come to the law school, talk to the students, it's a done deal," he said, adding he's developed so many great relationships at the law school that he is even considering taking the Pennsylvania bar exam, in addition to the New York and New Jersey tests.
Interview was conducted in Spring 2020.