Leah J. Bobula
The decision to transfer to Widener Law Commonwealth was an easy one for Leah Bobula, and one she is glad she made.
"It was a puzzle for me," said Bobula, a Harrisburg native. "I had to fit it all together and at the end, Widener was the only school I applied to after completing my first 12 law school credits in Florida, at night, while teaching high school forensic and environmental science during the day."
Bobula's puzzle pieces included:
The law school's Harrisburg campus is five minutes from her parent's home; she could live with them, cutting her expenses. This would allow her to attend law school fulltime, as opposed to the night program she attended in Florida.
All of her credits from her prior law school would transfer.
Being close to Harrisburg, the State Capitol, and within driving distance of multiple county seats gave her the expanded internship, externship and job opportunities she craved.
Her two grandmothers, both in their eighties, were still living and coming home would give her more time with them.
After spending hours in her car each day while teaching and attending night school, she relished the idea of having time for a social life.
Bobula is one of two people in her extended family to attend college and graduate school, the first to attend law school. She is a Central Dauphin High School graduate and obtained a degree in biology and a master's degree in forensics from Duquesne University.
Bobula said she loved teaching but after eight years she "ran out of goals" after launching her school's first forensics program.
Bobula calls herself a Widener "halfie;" her first year in Harrisburg she took half her classes with 1Ls and half with 2Ls.
"While it was a challenge to make friends, I did it," she said, explaining that upon arriving on campus, she joined the Environmental Law and Policy Society, whose members quickly became her core law school friends. She is currently the vice president of the society. Last year, she completed a remote internship for the international Earth Law Center.
Bobula put her spare time to good use at Widener, founding the Animal Legal Defense Fund with Ricky Marcil last year; this year she is serving as that group's vice president.
She participated in Trial Advocacy, as well, competing in a Philadelphia event earlier this year. She said this program pushed her to be a better advocate and that her teaching background came in handy.
"There is nothing as 'judgey' as a roomful of high schoolers, " she said. "The actual judges and attorneys who worked with us at the competition were nice and definitely not as intimidating as 11th graders."
Bobula also did an externship with the Dauphin County Public Defender's office and will be doing one with the Federal Public Defender's Office for the Middle District in Harrisburg next semester.
Bobula's "halfie" status will be with her until graduation. She is slated to graduate in December 2020. Traditionally, Widener Law Commonwealth students graduating mid-year are invited to participate in the following May's graduation ceremony at the Forum. With the COVID-19 pandemic, however, the May 2020 ceremony has already been pushed back to December, so Bobula may march with those 2Ls she first took class with last year.
"I'd much rather wait until May 2021, though," she said. "Believe it or not, graduation that year falls on my 35th birthday weekend – what a way to celebrate! Hopefully, I'll pass the bar, so I'd be listed in the commencement program as Leah Bobula, Esq., which has a nice ring to it!"
With her science and forensics backgrounds, Bobula said she is a natural fit for criminal defense work and is even considering taking the so-called patent bar, the registration exam required by the United States Patent and Trademark Office. She wants to take both the Florida and the Pennsylvania bar exams and is not sure yet where she will practice. She said she loved living in Florida but is glad she came home to complete her law degree.
"Widener Law Commonwealth gave me everything I was looking for," Bobula said. And she got to spend time with her family and save a little money, to boot.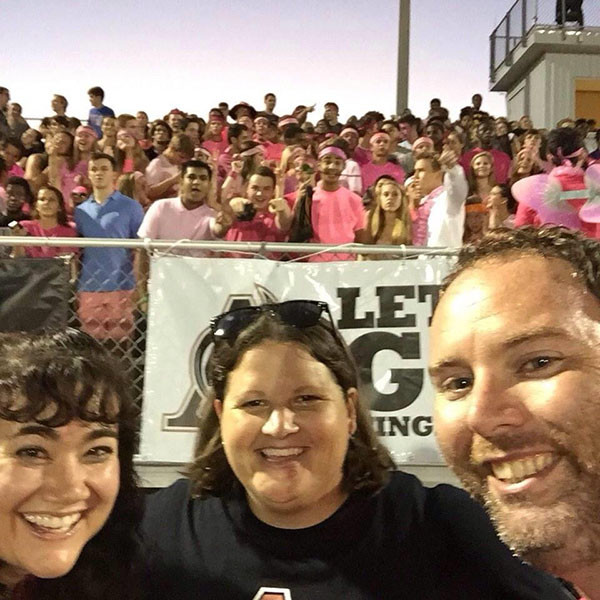 Leah pictured in Fall 2019 at a football game at the high school in Florida where she taught for a few years – Atlantic Coastal in Jacksonville
Interview was conducted in Spring 2020.