Michael Joyce
Mike Joyce is on a fast track to a career in the law
Become a lawyer.
Michael J. Joyce is a few weeks away from checking this major life goal off his list.
Graduating from the University of Scranton in 2017 with a history degree, Joyce moved without a break to law school, a dream he'd had since his days at Lansdale Catholic High School. He was ready, having polished his debate skills in college with the pre-law society and mock trial team. He will be the first lawyer in his family.
Drawn to Widener University Commonwealth Law School for its proximity to the Pennsylvania State Capital and its manageable size, Joyce immediately felt at home on the Harrisburg campus.
"Law school has been what I had hoped it would be. I've always found debate interesting and I've had the opportunity here to do so much of it, including winning the Academy of Trial Lawyers of Allegheny County Annual Academy Mock Trial competition with my trial partner, fourth-year Amoreena (Amy) Bua, in February," he said.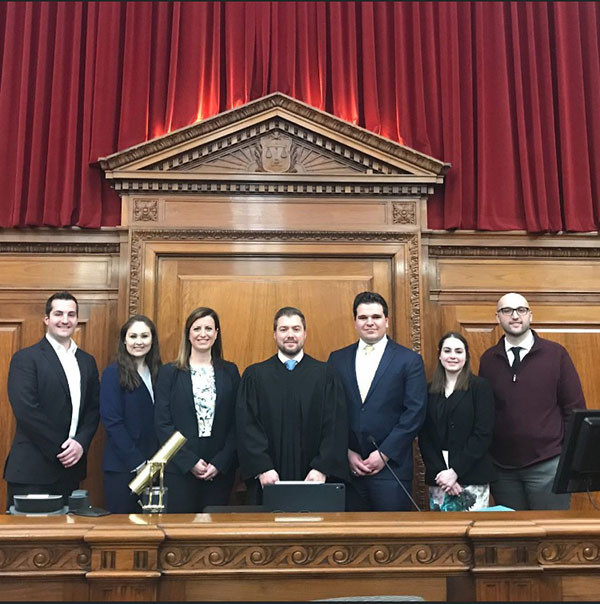 Joyce talked passionately about his experience with mock trial while at Widener Law Commonwealth, saying it is the closest he'll get to trying an actual case until he does his first one. Arguing a nursing home negligent fall case before federal judges in a court room in the Joseph F. Weis, Jr. Federal Courthouse in Pittsburgh was stressful, he said. His initial performance, a direct examination of a witness, got off to a rocky start, but he settled down by focusing on the case, for which he had spent hours preparing.
"The objections especially can throw you off," Joyce said. "We practiced them beforehand, working on even the craziest ones, just in case. We threw a lot at the opposing counsel, too. They overcame one I thought would go our way and got a document admitted. But when I got that witness on cross examination, she floundered anyway, so we got where we needed to go," he said.
In addition to his participation in the mock trial program, Joyce is a member of the Trial Advocacy Honor Society and the executive managing editor of the Widener Commonwealth Law Review.
Joyce's work on the law review has included the summer write on competition and overseeing the annual survey of Pennsylvania's administrative law cases. His survey – on Department of Transportation cases -- will be published in this spring's edition. He has also served as the head of a five-member team tracking tort case decisions in all 50 states and the federal courts for Widener Law Commonwealth Professor Christopher J. Robinette, who is an editor of a leading torts treatise, Harper, James & Gray on Torts, and an advisor to the Restatement of the Law Third, Torts: Concluding Provisions.
Joyce has also worked as an Academic Support Fellow to Professor Susan Raeker-Jordan in her civil procedure class. He said he liked helping first years get to the "Oh, I get it" moment.
He has also worked as a Widener Law Commonwealth Student Ambassador, giving campus tours and making himself available to interested and admitted students.
For now, like everyone else, Joyce is facing the disruption and uncertainly caused by the COVID-19 pandemic.
"We were supposed to have one more trial for the trial advocacy honor society, which has now been cancelled. And the graduation ceremony itself is up in the air," Joyce said. As class valedictorian, he is scheduled to give an address, which he continues to work on regardless.
"Whether I get to give the speech in May or not, I will write about Ignatius of Loyola, who encouraged us to go forth and set the world on fire. In a good way," he said.
Joyce hopes he can start his own fire in the world in September, when he is scheduled to begin a one-year clerkship for Judge Vivian L. Medinilla of the Delaware Superior Court, that state's trial court.
Interview was conducted in Spring 2020.