Waleisha Moat
Waleisha Moat got an unfortunate early introduction to the legal system.
Born in Chester, PA, Moat saw firsthand as a youngster what justice - and injustice - looked like as her parents, who battled drug addiction, cycled in and out of courtrooms and prison.
"I was seeing the legal system from all sides," she recalls.
Moat escaped that unstable situation and was raised in foster care in rural Schuylkill County, PA. She said she was at a crossroads in high school when her court-appointed guardian-advocate urged her to set goals and find direction in life.
"I had a good guardian ad litem who talked to me about the importance of owning my future," she said.
Moat would go on to earn a degree in psychology from Lebanon Valley College before being hired as a mental health case manager.
Working with 35 clients with mental health issues, Moat quickly learned the close connection between those with mental health needs and the legal system.
"My clients had legal issues stemming from mental health issues," she said. "I found I was working on legal issues because there was that lack of understanding in legal profession of mental health."
She found herself wondering: "How can you have effective representation when you can't communicate with your client?"
So, she decided to pursue an old dream: to go to law school as a way to help those with underlying mental health issues through the legal system.
Widener Law Commonwealth was initially attractive to her because of its proximity to her home, but she quickly found it offered much more.
"Widener has been a great experience in an environment where I could thrive," said Moat, who will graduate this spring with a business advising certificate as well. "I've got the best professors and made so many connections, personal and professional. There's really an ease of learning here."
Moat, who is president of the Moot Court, considered becoming a criminal defense attorney and thought about contract law before realizing how much she loved trial work. "I'm really great at trial work!" she said.
Moat's current internship with Schuylkill County public defender's office has put her in front of judges and on the frontline of the COVID-19 pandemic, helping clients with high health risks postpone the start of their jail sentences and petitioning for some who are in jail to be released.
"They are ill," she said. "Having people with disease in and out of jails could decimate jails and end up with wrongful death suits."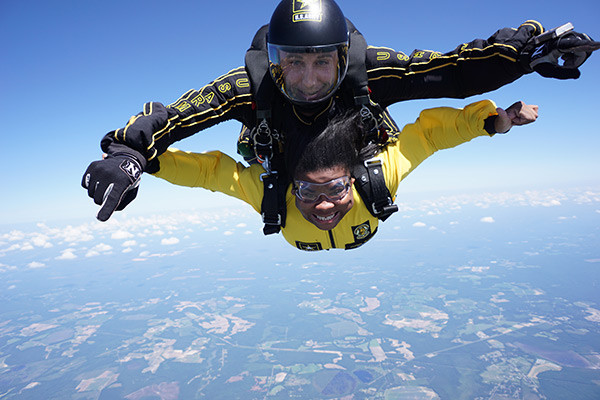 Last summer Moat found her calling with an internship with the U.S. Army JAG Corps at Fort Bragg, NC where she was exposed to military law and had the chance to parachute from a plane.
Moat was so taken with military law that she will begin bootcamp in January 2021, on track to become a commissioned officer and on her way to becoming a member of the prestigious JAG Corps.
Interview was conducted in Spring 2020.