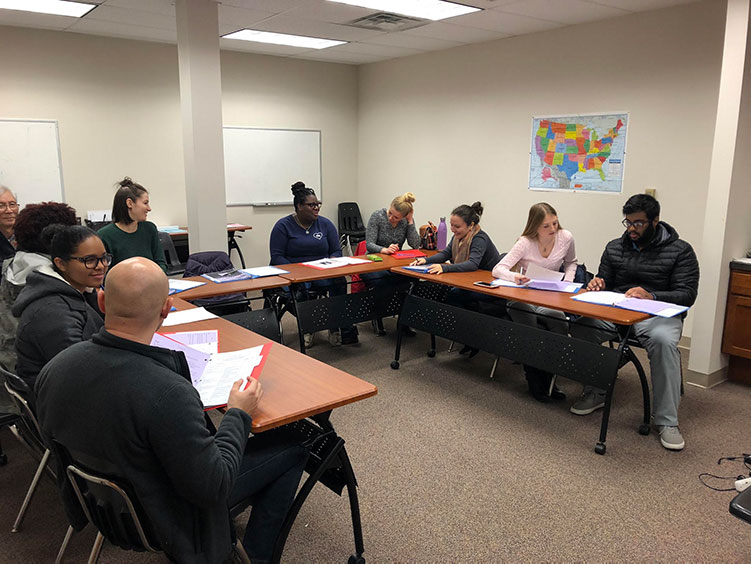 DEC 3, 2019 TUESDAY
Law students help prepare would-be citizens on Citizenship Day
Widener Commonwealth Law School students recently had the opportunity for the first time to help aspiring U.S. citizens and learn about the citizenship process as part of Catholic Charities' Citizenship Day in Harrisburg.
The annual event brings together individuals preparing to apply for citizenship and volunteers who coach them in a U.S. citizenship interview practice session.
Eight Widener students, one alumnus and Professor Jill Family, director of the Law and Government Institute, participated in the Citizenship Day in November.
Catholic Charities of Harrisburg operates an immigration and refugee services program that provides resources to immigrants and refugees, including resettlement, employment and legal assistance and English classes.
"It was definitely eye-opening," said Katie Paradise '21, vice president of the Law and Government Student Society and a Patrick J. Murphy Fellow. "The students are at various stages in their citizenship journey, so some are just about ready to interview and some are just in the beginning stages of thinking about applying."
Working one-on-one, volunteers went through the interview with about 20 students, including communication, reading, writing and civics sections, as well as going over details of their application.
Paradise said she and fellow law students were surprised at the difficulty of the questions, particularly for those who may have language barriers. "Some of the law students couldn't answer them," she said.
"It was wonderful to volunteer with the students. I'm so proud of the work the students did in setting up the opportunity and lending a hand," said Professor Family, who counts immigration law as one of her areas of expertise. "The experience helped them to see how law has profound effects on people's lives."
The student organizers said they want to establish Citizenship Day as a regular volunteer event for the Widener community.
"We are hoping this will become an annual event for the Law and Government Student Society," said Kimberly Creech, '20, president of the society and also a Patrick J. Murphy Fellow.