Question and Answer with Dean Johnson
SEP 17, 2015 THURSDAY
A New Dean For A New Day
On July 1, Dean Christian Johnson's first day on the job, the name Widener University Commonwealth Law School became official and its administration separated from the Delaware-based campus (now known as the Widener University Delaware Law School).
A native of Utah, Johnson, 54, earned bachelor's and master's degrees in accounting from the University of Utah. He worked as a CPA for Price Waterhouse before attending Columbia University School of Law, where he was a Harlan Fiske Stone Scholar and executive editor of the Columbia Law Review. After graduating from Columbia in 1990, he worked as an associate for law firms in New York, Las Vegas, and Chicago, focusing primarily on tax law, finance, bank lending, and derivatives.
He began his teaching career in Chicago at Loyola University School of Law in 1995. As a member of the faculty at Loyola, he rose through the ranks to professor, and served as faculty director of the Corporate Law Center. After 13 years at Loyola, Johnson returned to his home state for a professorship at the University of Utah S.J. Quinney School of Law, where he was named the Hugh B. Brown Presidential Endowed Chair in Law.
Johnson is a frequent commentator, consultant, and scholar focusing primarily on over-the-counter derivatives and global capital markets. He has coauthored five books and written more than three dozen articles on the derivative and repo capital markets and central banks. He has testified before the U.S. Congress on OTC derivative reforms and made presen­tations to the staffs at the U.S. Commodity Future Trading Commission and the National Futures Association. In addition, Johnson has spoken and lectured at such institutions as the International Monetary Fund, the Federal Reserve Bank of Chicago, the London School of Economics, and the University of Oxford. His speeches on capital markets have taken him to Australia, the Caribbean, South Africa, Saudi Arabia and the UAE, Singapore, Sweden, and throughout Europe.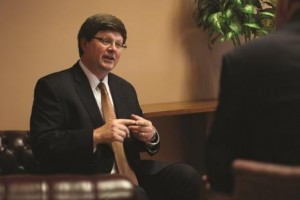 Question and Answer
What is your highest priority as the new dean?
To continue to support and sustain the student-focused emphasis and environment at the law school while gradually and thoughtfully increasing student enrollment. We have an extraordinary record of placing teaching and student concerns first and that will continue to be the top priority.
What is a new initiative you plan to introduce?
We are very excited about a new online mentoring program for students that we will introduce this fall. It will enable our students to connect with alumni not only here in Harrisburg, but across the country. The new system will allow students to search for mentors based on the location of our participating alumni. It will also provide a concrete opportunity for alumni to help mentor students with career counsel and guidance.
What motivated you to develop an expertise in financial markets?
I have been fascinated since college by the ability of investment banks to raise billions of dollars through the under­writing of stocks and bonds, derivatives, and repos. These transactions require extensive legal documentation and analysis. After law school, I worked on Wall Street where I was a first-year associate helping to analyze the tax consequences of very large debt offerings. In Chicago, I worked in the LaSalle Street "canyon" where I was an associate working on bank lending and on over-the-counter derivatives. As a law professor, I have had an opportunity to write about the documentation of these financial market transactions and speak before Congress and across the globe. I look forward to sharing what I've learned about financial markets in Harrisburg and involving our students in these issues.
Tell us about your move to Harrisburg.
My wife, 16-year-old son, and I are very excited to come to Harrisburg. We live in Lower Paxton Township, about 10 minutes from the law school, which I guess makes me an East Shore person. We hope to host many law school events for both alumni and the school at our home. I also have a daughter who is starting college in Utah and an older daughter and son-in-law who have three wonderful children. I was excited to see that there is a tennis court on the law school campus.
What's a favorite book and why?
One of my favorites is a small book by Jerzy Kosinski entitled Being There that was also made into a movie starring Peter Sellers, a favorite actor of mine. Besides being wonderfully entertaining, the book is a sophisticated satire on the role of television and the media in modern society. I am also a business junkie and regularly read the latest accounts of business misadventures, one of the best books probably being When Genius Failed, a story about the failure of Long- Term Capital Management hedge fund. Michael Lewis, Roger Lowenstein, and Paul Erdman (who writes fiction) are also favorite authors.
What do you like to do when you are not working?
My wife and I very much enjoy driving through the countryside and learning about the area. I am sure Harrisburg and the surrounding region will keep us busy visiting all of the historical sites and beautiful scenery. We look forward to sampling all types of local cuisine in the region.
We also enjoy participating in commu­nity organizations. Last year, my wife was the PTA president for my son's school and I was the faithful secretary. We also stay busy serving in our local church congregation and in the local community. I am sure that my new position at the law school will open up more opportunities for us to get involved.