OCT 5, 2015 MONDAY
Student Chosen to Participate in Prestigious ABA Diversity Clerkship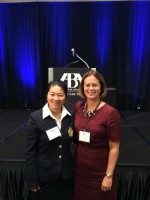 Zhao "Ruby" Liu, a 3L at Widener Law Commonwealth, was chosen for one of only nine highly-sought after spots for the Diversity Clerkship offered by the ABA Business Law Section. Liu is a student in the law school's Business Advising Certificate Program.
Liu was selected to participate in the Diversity Clerkship Program, and assigned to work over the summer under Vice Chancellor Donald Parsons in the Delaware Court of Chancery, the nation's preeminent business court.. Participants receive mentoring and guidance in the business law field and exposure to all types of business law that they may not see in the classroom.
Liu said one of the main things she learned from her clerkship was the amount of attention and detail that must paid when writing and reading legal documents.
"It is important to know how much to write and how much detail to include," she said. "You need to be careful about every word and look at it through the chancellor's eyes. I learned to really look at the detail and how things are written."
As a participant in the Diversity Clerkship Program, Liu was invited to attend the ABA Business Law Section Annual Meeting that was held in Chicago this year, which allowed her to participate in networking opportunities and substantive committee meetings.
Liu said her clerkship and the experience at the conference really drove home the importance for students to be involved in professional organizations and to really get out into the market to learn more about professional opportunities.
Professor Juliet Moringiello, of Widener Law Commonwealth, a long-time leader in the ABA Business Law Section, also attended the Section Meeting and had strongly encouraged Liu to apply for the Diversity Clerkship.
"The Business Law Section members are eager to get the students involved and leadership feels very strongly about getting law students engaged in Section activities because such involvement provides tremendous professional development opportunities," said Moringiello.
Events at the annual meeting included a speed networking event and a panel that addressed the topic of how young lawyers can balance their work and professional lives. This topic was especially interesting to Liu, who owns a business and is the primary financial support of her family.