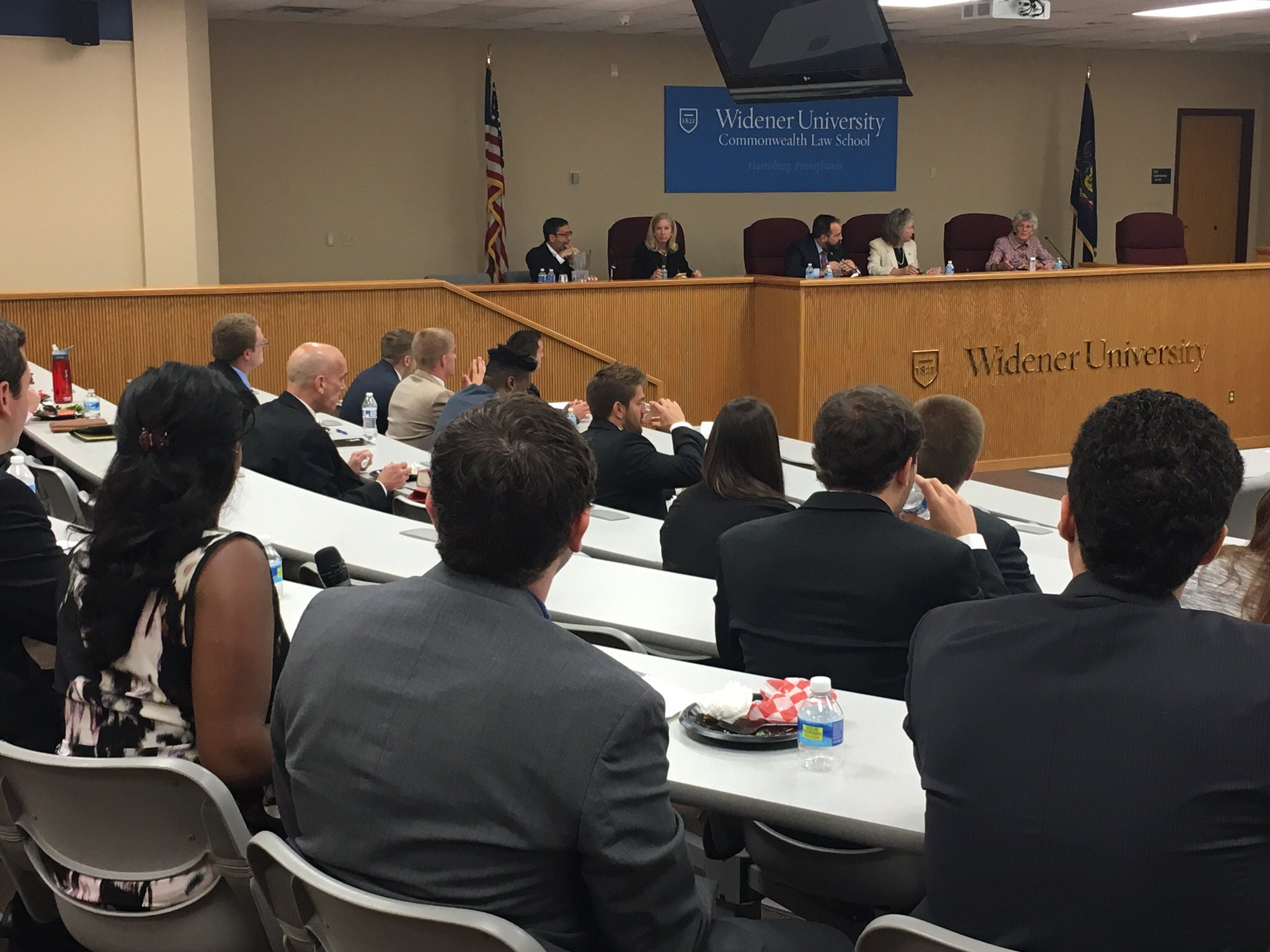 OCT 4, 2016 TUESDAY
Professors integrate Commonwealth Court oral arguments into classroom
Sarah Rothermel was glued to her seat when the Commonwealth Court of Pennsylvania heard arguments at Widener Law Commonwealth.
A first-year law student, Rothermel said the snapshot she observed while listening to the judges hear arguments helped to solidify all of her hours in the classroom.
"As with anything, there is a distinction between theory and practice. Reading about how the court functions in theory and actually participating in the courtroom setting, even in a limited capacity as observers, are two separate entities," she said. "It is easy to think you understand something in theory, but easier still and longer lasting to learn by doing. Though the experience was only a snapshot, I certainly got more out of how a courtroom actually functions by observing it than I would have by reading about the process."
In September, three judges from the Commonwealth Court sat at Widener Law Commonwealth to hear a dozen cases. Hon. Mary Hanna Leavitt, Hon. P. Kevin Brobson,'95 (Harrisburg Campus) and Hon. Anne E. Covey '85 (Delaware Campus) relocated to the law school for a morning of oral argument.
Several professors required their students to observe the Commonwealth Court oral arguments. After the arguments were finished Widener Law Commonwealth students had the opportunity to talk with the judges during a question and answer session over lunch.
Students asked questions about career paths, civil procedure and professionalism.
"The student experience is so important to all of us at Widener Law Commonwealth," said Commonwealth Professor of Law and Government Jill Family. "I'm so pleased we were able to bring the court to our students and integrate the cases into our courses."