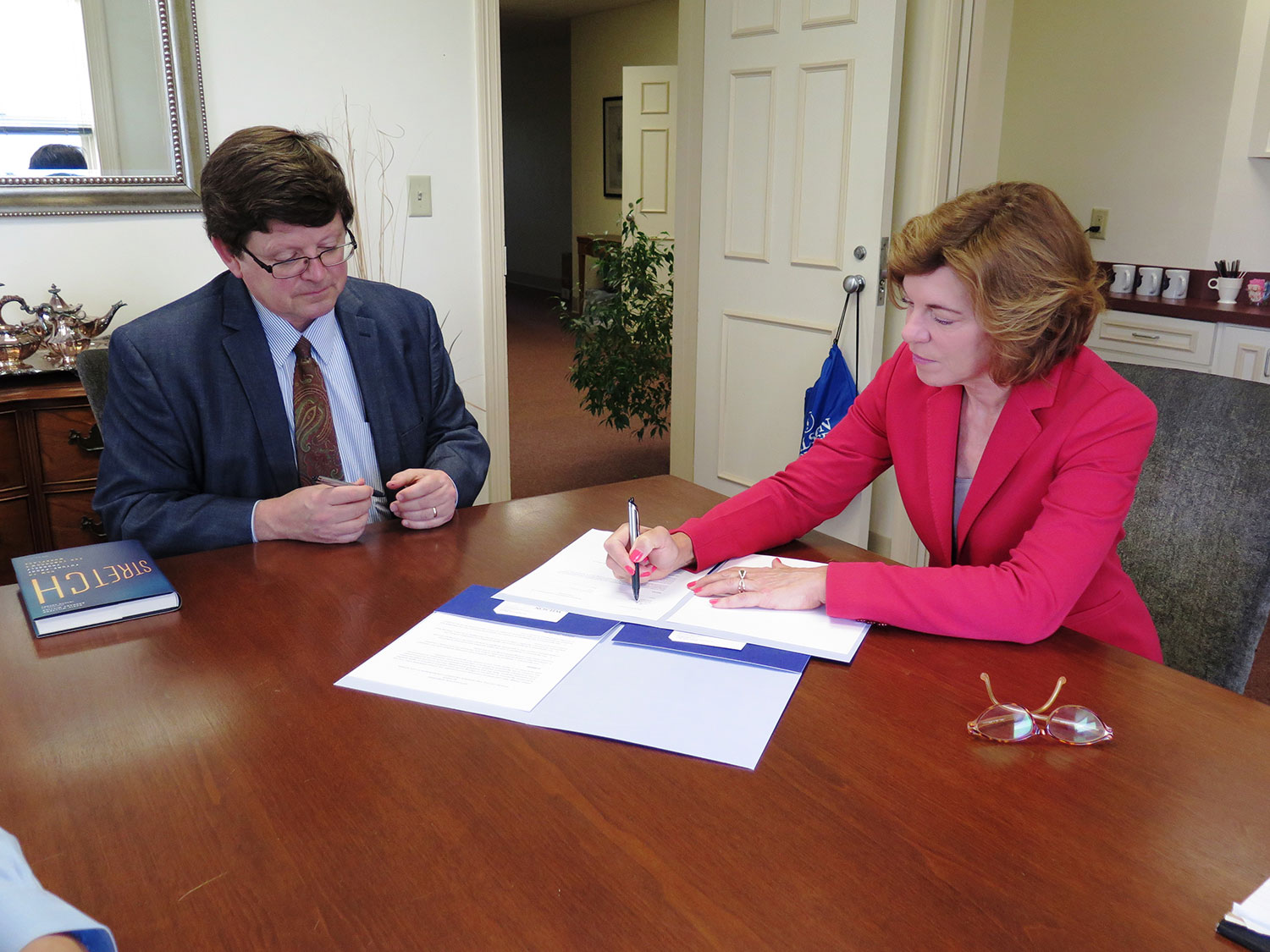 AUG 16, 2017 WEDNESDAY
Law school forges agreement with Wilson College that allows students to earn JD in six years
Wilson College in Chambersburg and Widener University Commonwealth Law School in Harrisburg today signed an articulation agreement that guarantees qualified Wilson student admission to Widener's law program and allows them to complete both degrees in six years rather than the usual minimum of seven years.
A five-year agreement to create the new "3+3" program was signed today by Wilson President Barbara K. Mistick and Widener Law Commonwealth Dean Christian A. Johnson. It takes effect immediately. Successful students would earn a bachelor's degree from Wilson College and a juris doctor degree—otherwise known as a law degree—from Widener.
Under the new program, students would complete the first three years of college at Wilson and three years at Widener, where they would complete the requirement for their Wilson bachelor's degree while also completing courses for their law degree.
"(Widener) believes that the 3+3 agreement can be a huge benefit to undergraduate students who intend to go to law school," Johnson said. "The most important reason is that the program enables students to reduce the total educational time commitment from seven years to six years. This results in students effectively saving a year in tuition costs, as well."
In addition to the savings in time and money, qualifying Wilson students would be guaranteed admission to Widener Law Commonwealth, under the agreement.
"The fact that Wilson can offer graduates who qualify guaranteed admission to a highly regarded law school like Widener provides an incredible opportunity and value for our students," said Elissa Heil, Wilson's vice president for academic affairs and dean of the faculty.
The Wilson-Widener pact offers students other advantages, as well, according to Heil. "This innovative program also focuses students on choosing an undergraduate curriculum that will best prepare them for their graduate work, enabling them to be more fully ready for the demands of law school," said Heil.
Founded in 1869, Wilson College is a private, coeducational liberal arts college offering bachelor's degrees in 35 majors and graduate degrees in education, healthcare, business and the arts and humanities. In fall 2016, 1,098 students were enrolled across all programs. In the 2018 "Best Colleges" guide from U.S News & World Report, Wilson is ranked fourth in the best value category for regional colleges in the North and 13th overall in the same group. Visit www.wilson.edu for more information.
Widener University Commonwealth Law School was founded in 1989 and is accredited by the American Bar Association, which gave Widener its Outstanding School of the Year Award in 1994. Widener was named one of the top 20 law schools for government law in 2016 by preLaw magazine and has been recognized by National Jurist as the fifth-best law school in the nation for bar exam preparation. More information can be found at commonwealthlaw.widener.edu.