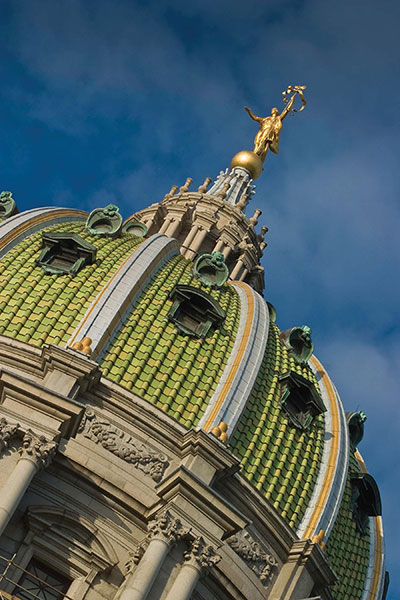 AUG 30, 2017 WEDNESDAY
Law students participate in Legislative Fellowship Program
For the first time in the history of the Pennsylvania House of Representatives Legislative Fellowship program, law students were allowed to participate.
This summer, two of the six Fellows in the 13-week program were Widener Law Commonwealth students.
Sarah Holloway and Dan Noon, both second-year law students, had the opportunity to learn about the legislative process in a hands-on Fellowship program at the Pennsylvania State Capitol.
The Legislative Fellowship Program, created by the Pennsylvania Legislature in 1982, is open to undergraduate juniors and seniors, graduate students and law school students attending public or private colleges in Pennsylvania. The fellowship requires that students work on drafting bill analyses, constituent letters and press releases; interview with a Member of the General Assembly; develop a professional portfolio and participate in weekly workshops that explore the process of state government. At the conclusion of the Fellowship, students must present a piece of legislation to complete the requirements of the Fellowship.
Noon said one of the most valuable things he learned was the behind the scenes process of the operations of the legislature. His project included amending the Pennsylvania Municipalities Planning Code when it pertains to the zoning hearing boards notice proceedings leading up to a hearing.
"I applied for the Fellowship because of the program's excellent reputation," he said. "I was fortunate enough to be placed in the Democratic Office of the Chief Counsel where I improved upon my legal research and writing skills. The fellowship also honed in on personal and professional development for a career in the legal setting."
During the Fellowship, Noon and Holloway had 10 weeks to research, draft, and prepare a presentation of an original piece of legislation.
Holloway, whose proposed legislation called for the reporting of neonatal abstinence syndrome to the Department of Health, said the Fellowship provided her with experience and knowledge of how to create legislation.
"The hands on experience Fellows receive is second to none," said Holloway. "I started with a vague idea and ended up with a formalized piece of legislation, and it really was remarkable. I worked with the research staff and legislative reference bureau to draft my bill. I met with and sought feedback from multiple key stakeholders. The process was extremely informative and the fellows truly own their own piece of legislation by the end of the program."
On the final day of the program Fellows present their original piece of legislation in the majority caucus room in the Harrisburg State Capitol Building to staff, legislators, and stakeholders.