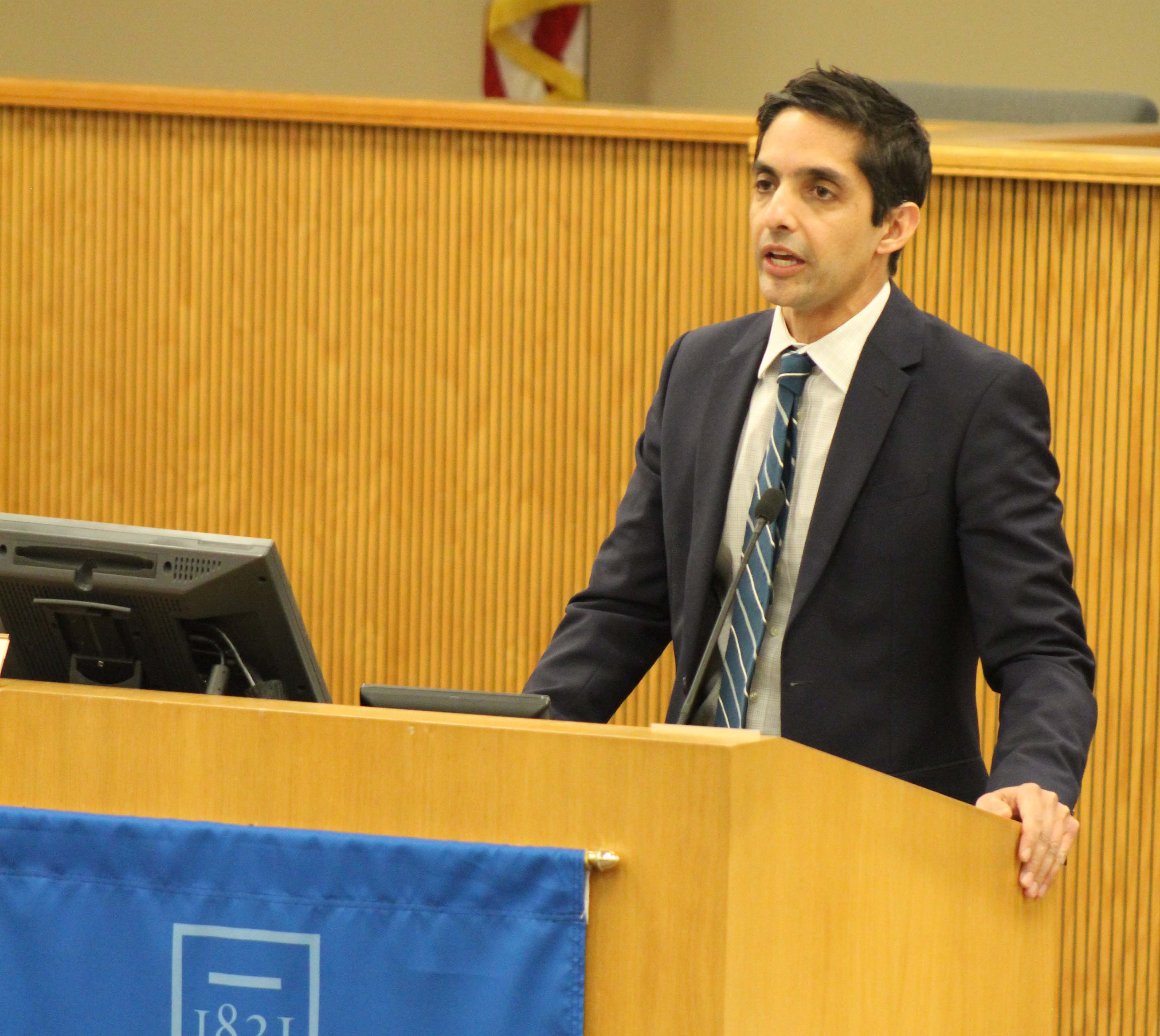 APR 11, 2018 WEDNESDAY
Annual lecture addresses DACA, immigration issues
Each year, the annual John Gedid Lecture addresses a hot topic related to government law.
This year, Muneer I. Ahmad, clinical professor of law and deputy dean for experiential education at Yale Law School, presented Immigration Race and Rights in the Trump ERA: Lessons from the Muslim Ban and DACA Termination.
His lecture addressed the Trump Administration's termination of Deferred Action for Childhood Arrivals (DACA) and work with his law students challenging President Trump's implementation of a travel ban affecting mostly Muslim-majority nations.
"The current moment of contentious immigration debate is hugely consequential for the future of the country, Professor Ahmad said. "But, I think our history both negative and positive can help us to navigate these challenges."
Professor Ahmad has represented immigrants in a range of labor, immigration and trafficking cases. Additionally, for three years he represented a prisoner at Guantanamo Bay.
"Professor Ahmad is on the cutting edge of experiential education. His work in immigration law deeply involves his students in creative and sophisticated litigation," said Jill Family, Commonwealth Professor of Law and Government and director of the Law and Government Institute. "Professor Ahmad is dedicated to protecting individual rights through his work. We are excited to engage with him on one of the most prominent government law topics of the time."
The Gedid Lecture honors the Widener Law Commonwealth Law and Government Institute's founder, Professor Emeritus John L. Gedid. The institute is dedicated to the study of government law and allows law students to learn how government works and the roles that lawyers play in making and implementing law.
"The Gedid Lecture is an opportunity for our legal community to dig deeper into issues effecting people around the world," said Dean Christian Johnson. "We are honored to be able to have legal experts in their field speak."