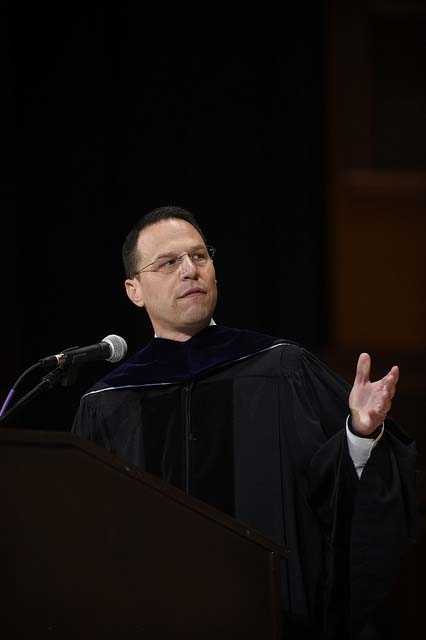 MAY 22, 2018 TUESDAY
Law graduates encouraged to 'Seize the Day'
Carpe Diem. Seize the Day.
These were the words of advice given by Pennsylvania Attorney General Josh Shapiro to the class of 2018 that graduated from Widener Law Commonwealth on Sunday.
"The only limitation on you is your own capacity to imagine. Your own capacity to dream. You have the tools and you have the know-how," Shapiro said. "You could be next and for the sake of your profession and the sake of our society I hope you are ready to lead."
Shapiro served as the speaker for the 27th commencement ceremony of Widener Law Commonwealth, held at the Forum Building in Harrisburg. He encouraged students to exhibit superior leadership and to provide service in both their professional and personal lives.
"Today you are one step closer to joining the legal profession as stewards of our justice system," Shapiro said. "You will put your knowledge to use serving your clients and most importantly the higher ideals of justice."
Nathan Berry, 2018 class valedictorian, echoed the importance of living every day to the fullest, and reminded his peers that time was their most valuable asset, to use it wisely and to find their true purpose in life.
"There will be always be competing interests for your time, from family, to friends, to bosses, to clients. This is because you are valuable," Berry said. "Keep a balanced approach and find your purpose in life. Once you find your purpose, everything else will fall into place."
Widener University President Dr. Julie Wollman praised the graduating class for their hard work learning legal doctrine and applying knowledge and legal skills in practical ways to benefit their clients.
"But what great lawyers are honored for is their judgement and empathy, not what they memorized out of a law book. Knowing something doesn't teach you how to use it," Wollman said.
Dean Christian Johnson said he saw it as the duty of the class of 2018 to use the training they have received to administer justice and make their communities, country and the world a better place.
"No profession is more honorable than that of the law, he said. "Lawyers champion the rights of the weak and powerless. Protect the rule of law that is the cornerstone of our democracy."