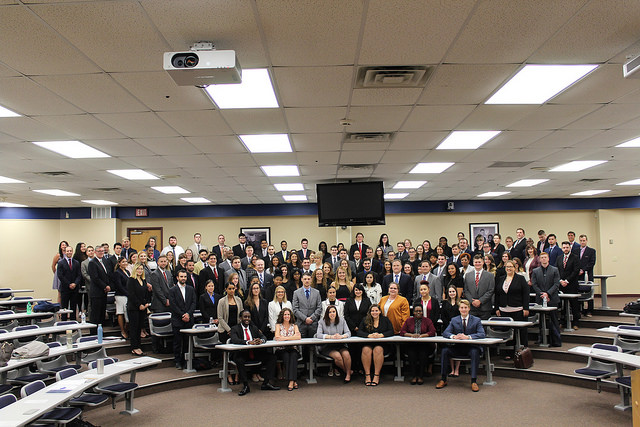 AUG 21, 2018 TUESDAY
Widener Commonwealth welcomes incoming class of 2018
Michael Cooper, a first-year law student, has been to far corners of the globe, but knew someday he would trade jumping out of planes for legal books.
Cooper served in Special Operations in the Army for 10 years, with much of his career focused on working in intelligence and gathering data that drove daily operations on the battlefield. With his goal to become a defense attorney, he knew law school was the next stop in his travels.
"I'm kind of a patriot if you will," said Cooper about his legal focus. "And, the primary job of the legal profession is to defend the constitutional rights of people."
But, Cooper isn't the only student with a unique background. Several incoming students immigrated to the United States with their families at young ages, one student holds dual citizenship with the United States and France, and another was a walk-on for the Temple University football team.
The incoming class of 2018 is filled with diverse backgrounds and represents 76 undergraduate universities and 17 different states. The class is represented by 56 percent of females and 44 percent male population, with 26 percent of the class identifying as a person of color.
During the Welcome to the Profession ceremony, Widener University trustee, Douglas Wolfberg '96, of Page, Wolfberg and Wirth, LLC, reminded students that their legacy is built upon the character that they display each day.
"Look to your left and look to your right and you will see people who will become lifelong friends and colleagues. You will see helpful and supportive peers. You will see future distinguished leaders of our profession," said Wolfberg. "You will see judges, chief counsel for government agencies, elected officials and successful law firm partners. You will see defenders of the poor and of the accused, and others who will selflessly serve the public interest. When you look to your left and then to your right, you will see the best of our profession today and in the years to come."
In her welcoming address, 1992 alumna Chief Magistrate Judge Susan E. Schwab of the United States District Court for the Middle District of Pennsylvania opened the floor for questions from the incoming class and provided her best advice.
After administering the Affirmation of Professionalism to the class, she had each student take a selfie.
"Now, before the end of the night, I want you to text that to yourself with a wish," Schwab told students. "I want you to say what you wish for yourself for the next three years. Then, I hope in three years I see you again, maybe at graduation. We can take another picture, because I would like to know if you fulfilled your wish of what you would have done different and how it all turned out."