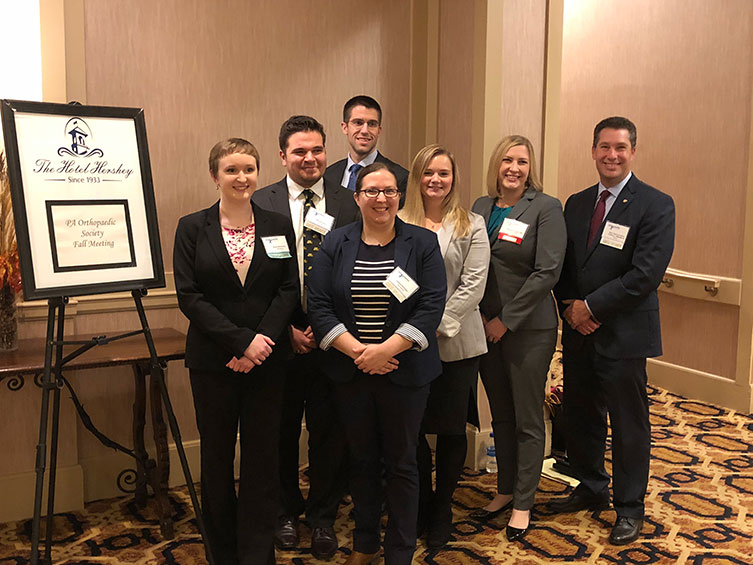 NOV 21, 2018 WEDNESDAY
Law students participate in panel discussion at PA Orthopaedic Society Conference
Four law students participated in a panel with resident physicians of Penn State Hershey Medical Center in a panel discussion at the annual Pennsylvania Orthopaedic Society Conference and the result was a robust conversation about the intersection of law and health care.
The panel focused on a discussion about Mitchell v. Shikora, which was heard before the Supreme Court of Pennsylvania. The case raised questions about whether evidence of medical procedure risks and complications can be used in a medical negligence trial.
Third-year law students Lindsay Eichinger, Sarah Rothermel, and Erin Alleman, along with second-year student Michael Joyce, presented the legal arguments made in the case, and its outcome. The medical residents looked at the case from the perspective of physicians, and with an eye for patient care.
"The collaboration between law students and med students allows us not only to collaborate between professions, but also allows us to learn from each other by agreeing and disagreeing on a medical/legal issue from our different perspectives," Eichinger said.
She added that the reward and challenge of the experience involved trying to get the medical residents to see a malpractice or negligence case through the eyes of a lawyer, and for law students to appreciate how case law and policies can make it difficult for medical professionals to effectively do their jobs.
The law students were assisted in preparation by alumnus Scott Cooper '93, a leading personal injury attorney, and by law Professors Christopher Robinette and Jill Family. Alumnus Jonathan Bigley '94, of Harrisburg-based lobby firm Bigley and Blikle assisted with organizing the panel.