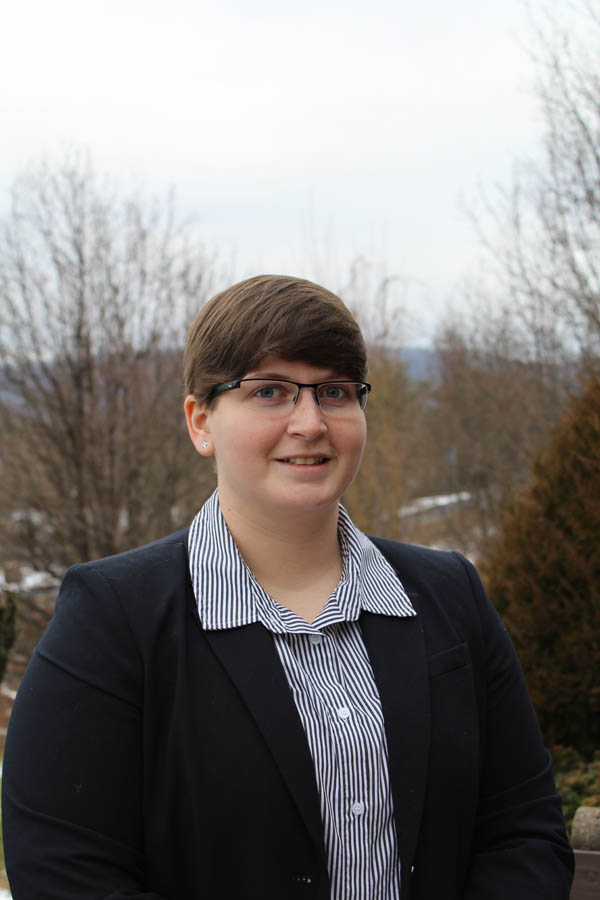 FEB 5, 2019 TUESDAY
Law student works with national organization to reform drug laws
Jamie Cook watched as the opioid epidemic hit her small town in Tioga County. She watched as safe parks became places where people dealt drugs. She watched classmates go down the dark spiral of addiction.
It's what lit a fire in her to go to law school.
In August, she was selected for an externship with the National Alliance for Model State Drug Laws. The externship has given her the opportunity to pair the legal writing and research skills she has learned in the classroom with her passion to reform drug laws and make communities safer.
NAMSDL was founded in 1993 and is responsible for creating a model code of laws to help states effectively address alcohol and drug abuse. The organization, located in downtown Harrisburg, works with state leaders across the country to develop and implement drug and alcohol policies and regulations.
Her main focus at the externship is researching and cataloging drug prescribing laws in each state. She is also researching laws related to drug deliveries that result in death. She will work with the organization through the spring semester.
"Students receive practical, hands-on experiences through externships," said Dean Christian Johnson. "The work Jamie is doing allows her to develop connections with mentors, refine her legal skills, and apply the information she learns in the classroom."
In December, Cook, who is a second-year law student, was asked to present her research at a convention held in Utah. The convention brought together the state's lawmakers to analyze laws surrounding drug deliveries that result in death. Roundtable discussions and presentations examined how the state could improve the prosecution process.
"Jamie has skillfully undertaken and summarized national 50-state research that will positively impact drug and alcohol policy across the nation," Gary Tennis, president of NAMSDL, said. "She's quickly become a valuable member of the NAMSDL team."
"I enjoyed being part of the conversations at the convention," Cook said. "The organization (NAMSDL) really wants their interns and externs to succeed, so they want to hear opinions and input. It has been a very positive experience."