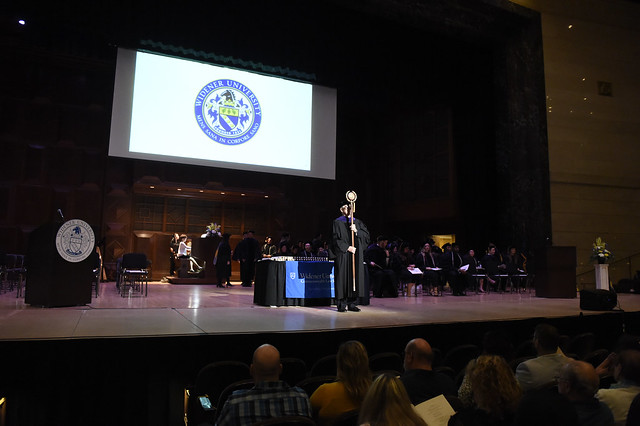 MAY 19, 2019 SUNDAY
Congratulations graduates: Commencement celebrated in Harrisburg 
The 76 graduates who received degrees in the Widener Law Commonwealth commencement ceremony on May 19 were advised to use their skills and experiences to improve the world.
Alumna and former Pennsylvania Bar Association President Sharon López, who was given an honorary Doctor of Laws degree, highlighted her message with three Cs: "Competency, compassion and connectedness." Competency requires attorneys to prioritize and do their due diligence, while compassion requires the emotional intelligence to appreciate a client's experience, and connecting cultivates networks of contacts who can help reach goals, she said.
"If you remember and practice these you will be successful as a lawyer, no matter how you use your JD,"López said.
The commencement ceremony, held at The Forum in the Capitol Complex, also featured remarks by valedictorian Lindsay Eichinger of Harrisburg, a U.S. Navy veteran. Eichinger recalled being a 12-year-old girl, watching her mother give a similar speech as she graduated from nursing school. With her own son watching in the audience, Eichinger chose the same Nelson Mandela quote her mother had cited as she summed up the challenge of her law school experience, "It always seems impossible until it's done."
"We now have the opportunity - and the privilege - to give back to our communities wherever we go in new and meaningful ways," Eichinger added.
Law Dean Christian Johnson gave the outstanding faculty award – decided by a vote of the graduating class – to Professor James Diehm. Prior to the ceremony, the dean gave the Douglas E. Ray Excellence in Faculty Scholarship Award to Commonwealth Professor of Law and Sustainability John Dernbach.
Johnson told the graduates they should be proud to take on the critical role lawyers play in society. He commended the graduates' spirit of public service, reflected in their pro bono work while in school.
"Successful leaders understand that the true measure of success is not how much money you make, but the difference you make in society and helping others. The privilege of being part of this fraternity requires that you invest your time and talent in making the world a better place," he said.
---
2019 Commencement Recording