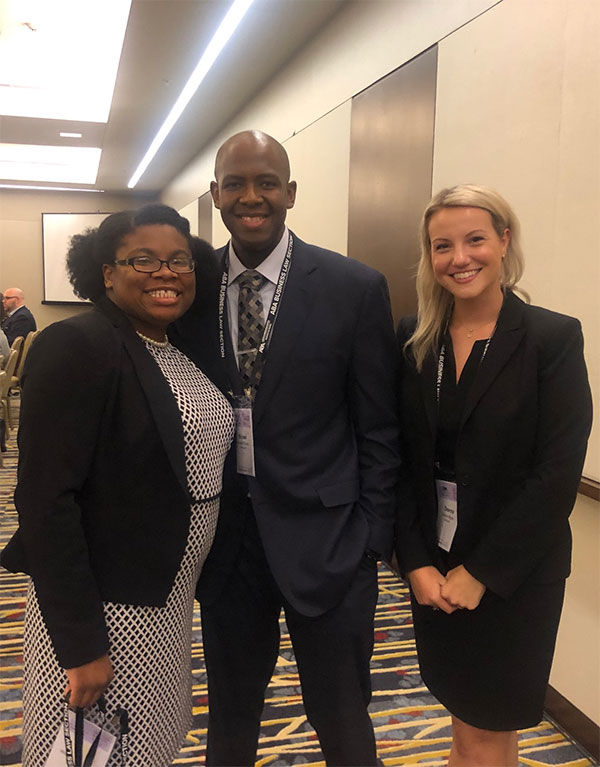 SEP 27, 2019 FRIDAY
PROGRAM SPOTLIGHT: Business Advising Program Sends Two Students to American Bar Association Business Law Section Meeting
Widener Law Commonwealth students Michael Morrison and Deanna Wagner were the first two recipients of grants from the Business Advising Program's Student Professional Development Fund, which was established to enable students to attend professional conferences. Michael, a third-year student, and Deanna, a second-year student, used the funds to attend the American Bar Association Business Law Section's Annual Meeting, held in Washington, DC from September 12 – 14.
Both students took advantage of the Section's student and younger lawyer programming and attended substantive committee meetings and continuing education programs. Deanna and Michael reported that they made valuable connections with both new and experienced business lawyers. In their own words:
Deanna: "Having the opportunity to attend the ABA Business Law Conference was invaluable. I was able to make connections with current law students, young lawyers, and established partners in areas of law I want to practice in. Everyone was incredibly kind and really went out of their way to make you feel welcome. I am thankful I was able to attend the Business and Corporate Litigation Committee Meeting and the Intellectual Property Committee Meeting because it gave me the chance in a smaller setting to speak with established lawyers about not only their practice but how I can establish a career in that practice as well. I left the conference with memories, connections, and most importantly friends. Thank you to Widener Law Commonwealth and the Business Advising Program for the opportunity – it is one I will never forget."
Michael: "Going to the ABA Business Law Section meeting in Washington was an invaluable experience for me because it gave me a chance to meet other law students and practitioners who share my interests. The Business Law Section in particular places a heavy emphasis on making sure that young lawyers and law students are deeply integrated into the fabric of the program and fully participate in all that the section has to offer.
As a diverse law student, it was really encouraging to meet and interact with successful law students and practitioners who also come from diverse backgrounds. This was helpful because I was able to have conversations with people who can not only relate to the challenges facing similarly situated students and practitioners, but to also discuss ways that those challenges can be mitigated and addressed and to exchange invaluable advice and expertise."
Associate Dean for Research and Faculty Development Juliet Moringiello is a long-time leader in the ABA Business Law Section and developed the idea for the Student Professional Development Fund while she was Director of the Business Advising Program. According to Moringiello, "attending meetings such as the ABA Business Law Section Meeting really illustrates to students the valuable lifelong professional connections that a lawyer can make by participating in professional activities." She added that "Deans Johnson and Hussey and I are so grateful to our donors who are helping us give the 'inside track' to business law practice to our students." The fund, started by a donation from the law firm of Mette, Evans, and Woodside, will allow several Widener Law Commonwealth students each year to attend conferences related to business law.