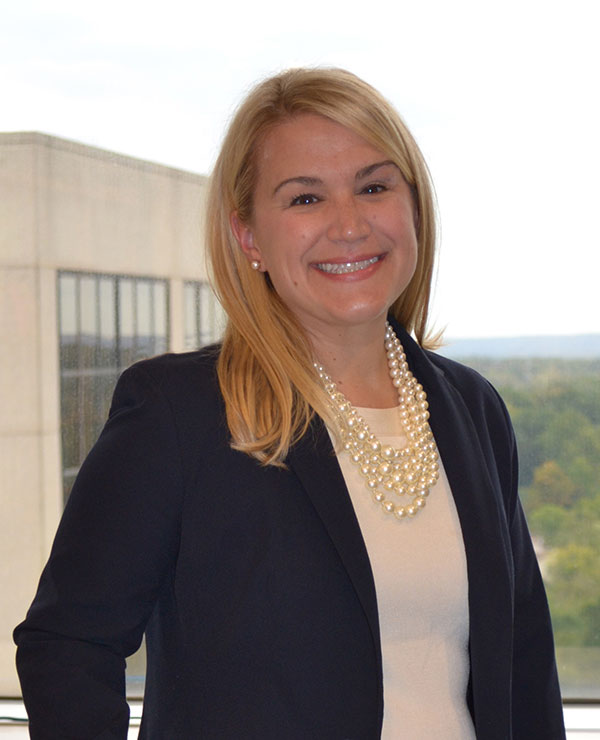 OCT 21, 2019 MONDAY
ALUMNI SPOTLIGHT: Tara Schellhorn '07 Named to the American Bankruptcy Institute 40 Under 40 List
The American Bankruptcy Institute named alumna Tara J. Schellhorn '07 to its 2019 "40 Under 40" list of emerging leaders in insolvency practice. Tara was chosen for this honor from more than 350 insolvency professionals around the United States and several foreign countries who had been nominated by their peers.
Tara is Counsel in the Bankruptcy and Reorganization Group of Riker Danzig Scherer Hyland & Perretti in Morristown, N.J. Before joining the firm, she was a clerk for the Honorable Raymond T. Lyons, United States Bankruptcy Judge for the District of New Jersey. She graduated magna cum laude from Widener, where she was Editor-in-Chief of the Law Review and the recipient of the American Bankruptcy Institute Medal of Excellence for outstanding performance in her bankruptcy courses. Tara is a member of the Widener Law Commonwealth Dean's Advisory Board. She serves in leadership positions in several professional organizations, including the American Bankruptcy Institute, for which she serves as a Contributing Editor for the ABI Journal and the International Women's Insolvency & Restructuring Confederation (IWIRC) for which she co-chairs the IWIRC-New Jersey Network.
Associate Dean for Research and Faculty Development Juliet Moringiello, one of Tara's nominators for the honor, said "Tara is a stellar example of Widener leadership. She is a superb bankruptcy lawyer, a key participant in important professional organizations, and a terrific role model for young lawyers. I can't think of anyone more deserving of recognition as an emerging bankruptcy professional."
To learn more about the program, visit the ABI's 40 Under 40 website.