Business Advising Certificate Program
The Business Advising Certificate offers students the opportunity to develop a foundational understanding of the many areas of law that affect small and midsize business owners. Students will graduate with a firm foundation in the legal doctrines governing business relationships as well as essential transactional practice skills.
Small and medium sized businesses drive the United States economy. Roughly one-half of U.S. workers are employed by business enterprises that have fewer than 500 employees. About one-fifth of U.S workers work for companies with fewer than 20 employees. The business law faculty members at Widener Law Commonwealth, in consultation with business lawyers and business owners, have developed the Business Advising Certificate to prepare students to advise these businesses.
Students will take courses designed to equip them with knowledge of the legal doctrines that govern the relationships among business owners and the transactions that businesses enter into. Certificate courses focus on business organization and structure, taxation, financing transactions, employment relationships, and intellectual property. Every Business Advising student must take one transactional skills course to gain practical experience in contract drafting, business formation, and various types of business transactions.
Business Advising students are also afforded numerous opportunities to put their practical skills to work outside of the classroom.
Real World Practical Experience
Dauphin County Bar Association Lawyers for the Arts Program. Artists and arts organizations face many of the same legal issues as other small businesses. Widener Law Commonwealth is a partner in the Dauphin County Bar Association Lawyers for the Arts Program. This program pairs artists and arts organizations of limited means with experienced attorneys. Business Advising students participating in this program will gain valuable client interviewing skills and have the opportunity to work with Harrisburg-area business lawyers. Read more about about Widener's involvement with this program.
Transactional LawMeet. Business Advising students may compete in the Transactional LawMeet. The National Transactional LawMeet is a live, interactive, educational competition designed to give law students a hands-on experience in developing and honing transactional lawyering skills. Members of the Harrisburg business law community donate their time to help train students for the Transactional LawMeet and Mid Penn Bank has generously provided financial support for the team.
Real World Connections
Members of the business law faculty at Widener Law Commonwealth maintain their contacts with the business law bar through their involvement in numerous professional activities and have been recognized locally, nationally, and internationally for their prominence in business law. The Business Advising Certificate Program is led by Director Juliet M. Moringiello.
Visit our Business Advising Faculty page for a list of full-time and adjunct faculty affiliated with the Business Advising Certificate program.
Social Media
Follow us on Twitter @WidenerCWBizLaw.
Join our LinkedIn Group.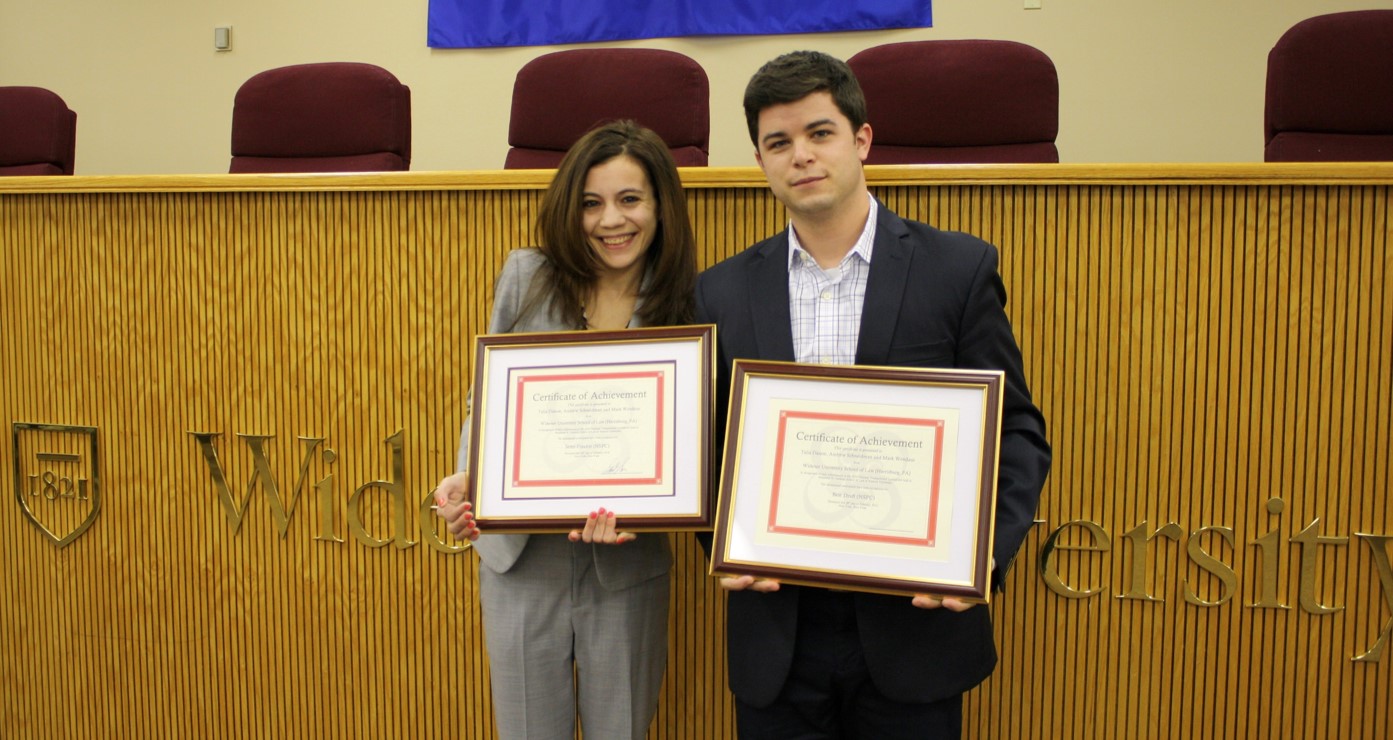 Students Talia Danon and Andrew Schneidman won awards for best draft and best negotiation.
Student Ruby Liu accepted an award from ABA Business Law Section Chair, Paul "Chip" L. Lion III.
Students Nick Marinelli, James Kane and Ruby Liu won an award for best draft.