Matthew A. Anderson
Matthew A. Anderson is just weeks away from achieving his long-held dream of becoming a lawyer.
Anderson, a transfer student originally from Alexandria, Virginia, thanked Widener University Commonwealth Law School for giving him a shot.
"Widener saw me for what I was, a diamond in the rough," Anderson said, adding that standardized tests are not his strength and that he had to work hard to find his path to the law after finishing a business degree at Duquesne University.
"I was so happy to come to Widener, back to Pennsylvania, which is like home now," he said. "The school gave me a chance and I showed them over these last two years that I was a risk worth taking."
Anderson got right to work upon arriving in Harrisburg in fall of 2018, attending orientation and making fast friends with other transfer students.
"The professors and staff were so welcoming, Professor John C. Dernbach and Assistant Dean for Career Services Eden L. Mandrell in particular," he said. "They really got to know me, and encouraged me to dig in and try it all, which I did."
Anderson became active with the Law & Government Institute, and tried out for and made it into the Moot Court Honor Society. He quickly found a niche working with Volunteer Lawyers for the Arts, a joint program run by Widener Law Commonwealth and the Dauphin County Bar Association. He is also a member of Public Interest Law Society.
Anderson did his first internship within a semester of arriving on campus, working two days a week at the Pennsylvania Legislative Reference Bureau, which prepares legislative bills and resolutions for introduction in the General Assembly. With his long-time interest in government, Anderson said he was excited for the opportunity and is grateful to Professor Jill Family for helping him get it.
Last summer, Anderson worked at the Pennsylvania Office of General Counsel, where he was assigned to the Department of State and working on civil licensing matters with the Bureau of Professional and Occupational Affairs.
"I made three appearances before an administrative law judge," Anderson said about his time at the OGC. "This was a great experience for me – there is a big difference between talking about making an argument and actually making one in court, with real attorneys on the other side tearing it down!"
This fall, he was able to move over to the Bureau for Consumer protection of the Pennsylvania Attorney General's office. He worked on a range of matters, including consumer protection actions, price gouging cases, and deceptive practice prosecutions.
Anderson credits many of his professors with pushing him during his time at the law school. He cites Professor Michael R. Dimino, Sr. as particularly instrumental in his education, helping him develop his "style of argument" and pushing him to better support his arguments with case law and practical examples during many class discussions.
Anderson said he will be the first lawyer on both sides of his family and that although the spring semester has been disrupted by the COVID-19 pandemic, he loved every minute of his time at Widener.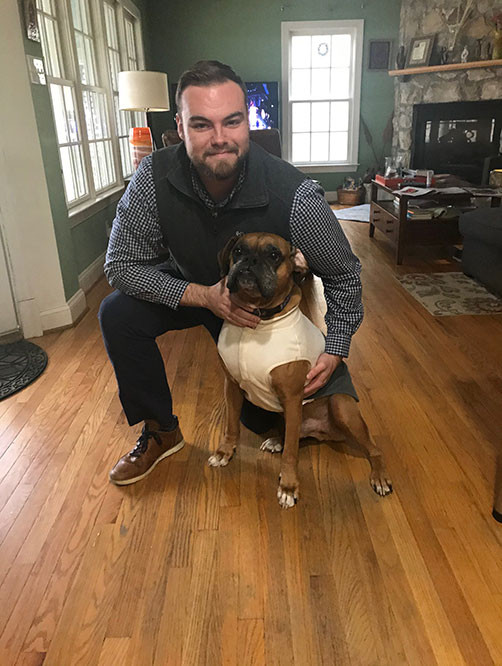 "My advice to all students, but especially transfer students who don't have time to waste: make those connections with the faculty and staff right away. They are your biggest supporters, in addition to your friends," he said, adding that they should get involved in as much as they can handle and don't be afraid to ask for help.
Anderson has signed up to take the Pennsylvania bar and is looking for a job. After his practical experiences at Widener, he thinks he wants to be a trial lawyer.
"There is something so creative about building a story from the facts of a case, convincing people that what you're arguing for is right, good, honest, ethical," he said.
Interview was conducted in Spring 2020.