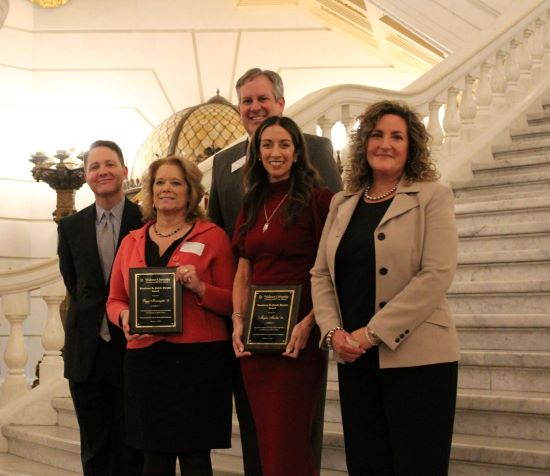 NOV 16, 2022 WEDNESDAY
Widener Law Commonwealth honors public service award recipients at 2022 Evening at the Capitol ceremony
Widener Law Commonwealth alums Peggy Morningstar and Megan Martin each received the law school's Excellence in Public Service Award for their outstanding contributions and dedication to public service during the 2022 Evening at the Capitol ceremony on November 14 in the Main Rotunda of the Pennsylvania State Capitol.
This special event, last held in 2019, was paused in 2020 and 2021 due to the COVID pandemic.
Morningstar '12 received the 2020 Excellence in Public Service Award. She has over twenty-five years of government service and has worked at the Pennsylvania Department of Auditor General, the Harrisburg School District, and the Pennsylvania Department of Human Services. During Morningstar's time in heading the financial overhaul of the district, she discovered it had substantial funds that were unknown to the school district board and management – funds that proved to be a vital step in the district's return to fiscal stability. In addition, she also assists with the Volunteer Income Tax Assistance program during tax season, an IRS program offered at WLC which also assists low to moderate income taxpayers.
"She has an extraordinary work ethic and sense of integrity," said WLC Adjunct Professor Rob Teplitz, who has worked with Morningstar throughout their careers in state government. "The state is simply just much better off from her service. It was an honor and pleasure to nominate her."
In receiving the award, Morningstar encouraged fellow law practitioners to follow in her footsteps and make public service a priority.
"The reward from working with the community and helping others is more than any paycheck will ever pay you," she said.
WLC Professor Mary Catherine Scott nominated Martin '94 for the 2022 Excellence in Public Service Award and graduated with her from the law school. Early on in their respective legal careers, she said she knew her classmate had a "real passion for working in public service," which eventually led to Martin serving as the first woman parliamentarian of the Pennsylvania Senate since the position was established by statute in 1911.
"To think about Megan Martin as an alum and a public servant through the years, it just makes me smile," Scott added.
Martin began her career as a judicial clerk in Lancaster County and later served in the Ridge Administration, at the Department of the Navy in its Office of General Counsel, and eventually to the Pennsylvania Senate. Among her accomplishments in that chamber, she was in charge of a team that allowed the chamber to hold session with remote participation of senators throughout the COVID pandemic – the first state legislative chamber to do so.
"All of us who have chosen this career path are so very fortunate to have the exceptional opportunity to practice law in the context of public service. It was once said that the best way to find yourself is to lose yourself in the service of others," Martin said.
In addition to the awards given to Morningstar and Martin, a special award was given to Daniel Schuckers from Widener Law Commonwealth Dean Michael Hussey in appreciation for his 15 years of service as an adjunct professor.
View pictures from the ceremony on our Flickr page.
Pictured above (left to right): Adjunct Professor Rob Teplitz, Peggy Morningstar, Dean Michael Hussey, Megan Martin, and Professor Mary Catherine Scott.